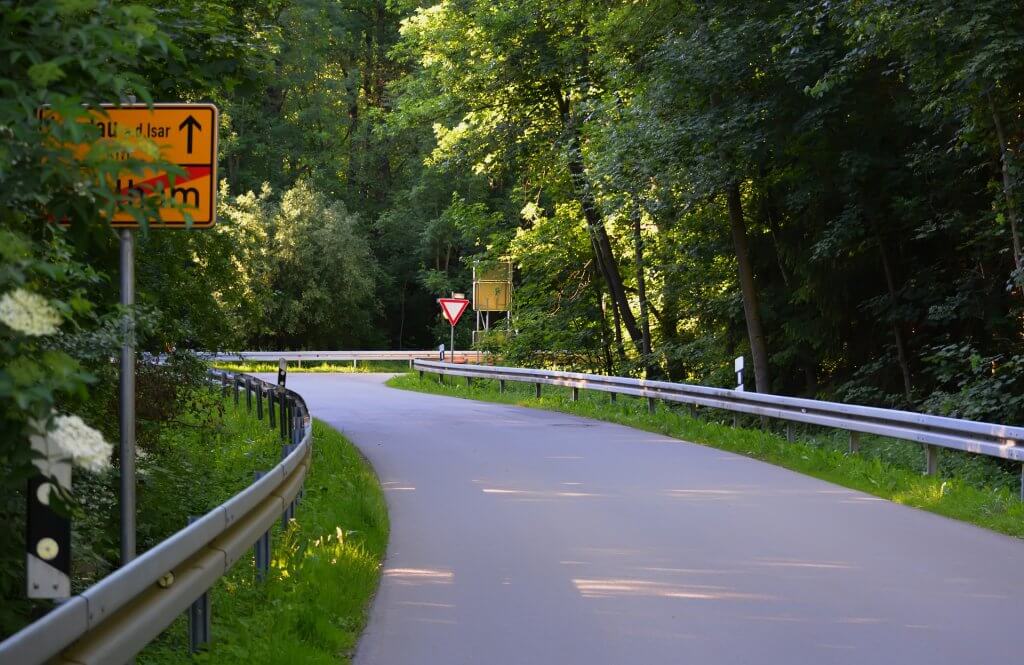 For slow travel along small roads and through quaint German villages where public transport isn't available, you'll want to a rental car. Road trips through Germany give you a chance to take a quiet path and travel at your own pace.
Before you decide to hit the road, you'll need to know a few things about driving in Germany.
German Rental Cars
Cars in Europe are usually small, tiny by US standards. But that's good because roads are small and narrow through villages, parking spaces can be tight squeezes, and parking garages are sometimes comically small. A large car will be challenging to navigate through narrow roadways, so make sure you're not choosing a rental car that's too big. Small cars mean limited space, so this will require y'all to pack light so that you can fit luggage and people into your rental car.
It's difficult for folks under 25 to rent a car because many rental agencies have age restrictions. Some car rental companies will allow rentals for ages under 25, but there will be a significant surcharge.
While it's possible to pick up and drop off in different countries, it is much cheaper to pick up and drop off in the same country.
Check your credit card for Auto Rental Collision Damage Waiver, or purchase a CDW policy with a third-party insurance company.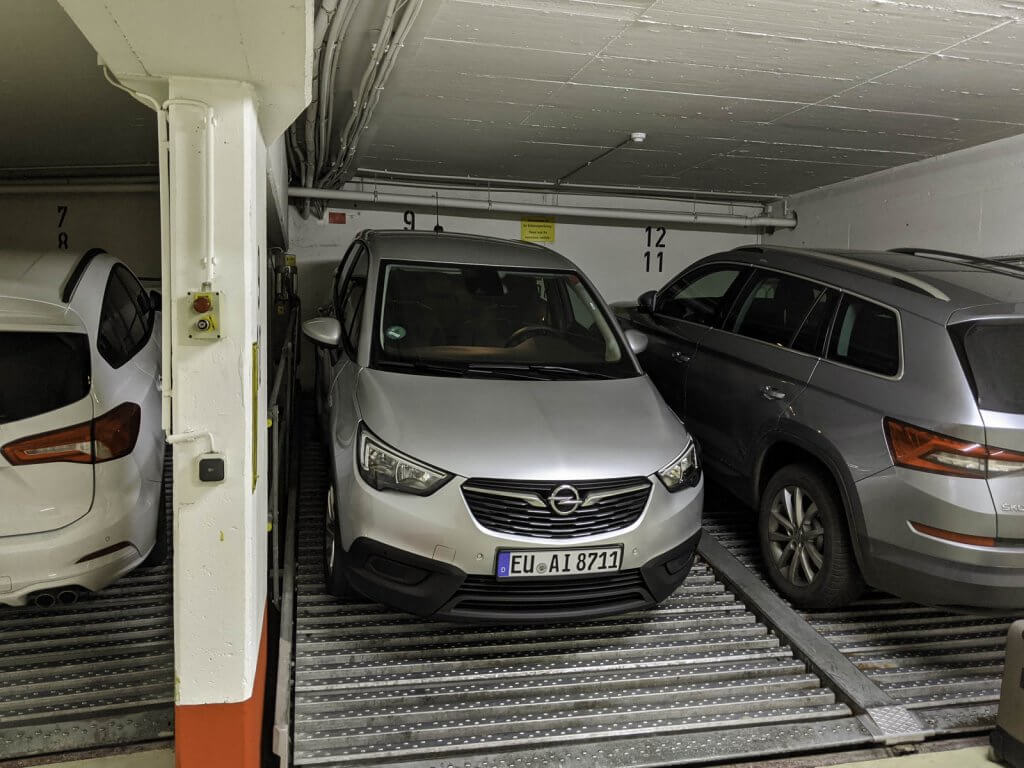 Use Your Phone GPS
Most newer rental cars have a GPS already installed, but we'll often rely on our phones with Google maps. If you have an unlocked phone, you can purchase an Orange Holiday SIM card before you leave for Europe, pop it in when you land (don't forget to put your US SIM in a safe spot), and have a working phone with data, internet, and phone service as soon as you hit the ground. We've used this SIM many times in our Europe travels, and we've never had a problem.
Be Comfortable Driving a Stick Shift
Many European rental cars are manual stick-shift drive cars, and an automatic will cost more if you can find one at all, so make sure you're comfortable driving a manual car. Diesel engines are far more popular in Europe than here in the US, and your rental will probably need diesel fuel. Be sure you know what your car needs and pay attention when filling up to make sure you're getting the right fuel.
When you stop for fuel, be sure to head into the store for car snacks. Discovering foreign snacks on a road trip is part of the fun. Along with fuel stations, German rest stops typically have a restaurant, convenience store, restrooms, and maybe even a hotel.
International Driving Permit Recommended
You aren't required to have an International Driving Permit (IDP) in Germany, but I always recommend that you get one. It gives you the freedom to drive into other countries that do require an IDP. (First, check with your rental car agreement to make sure it allows travel in other countries.) You can get an International Driving Permit from AAA either in-person at a branch office or by mail. The permit is valid for one year.
Germany Driving Rules
Good news for Americans, Germany drives on the right side of the road. Driving in Germany is very orderly, but there are some rules you should be aware of before you take off.

A few top rules for driving in Germany
1.
There are severe penalties for driving under the influence, and the blood-alcohol limit is very low at .03%. The best advice is if you drink any alcohol at all, don't drive.
2.
Even though sections of the German Autobahns don't have speed limits, they still have some restrictions. You must maintain control of the vehicle and adapt your speed to the traffic, weather, and road conditions. Many sections of the Autobahn do have speed limits, and the reduced speed will be displayed on electronic signs. Keep an eye out for the signs, but you may not know whether you've broken the speed limit until you return home and receive a ticket in the mail from a speed camera. Ask me how we know this.
3.
On highways, the left lane is for passing only. No camping in the left lane. Pass on the left and then move back to the right. Even if you're quick with your passing, a fast-moving car may come up behind you seemingly from nowhere with its headlights flashing to pressure you to get out of their way.
4.
Always watch for and anticipate the actions of pedestrians. Pedestrians crossing the street have the right-of-way. In-town speed limits are very slow, helping the driver navigate the winding road and watch for pedestrians at the same time. If you're in a pedestrian zone, pedestrians have free reign of the street, and you have to wait for them.
5.
Turning right on red is not allowed unless there is a green arrow traffic sign that gives an exception.
6.
Parking can be a challenge with limited spaces available. You might see a parking sign with a dial on it and a number, which means the parking has a time limit. Somewhere in your rental car, you'll find a parking disk, usually in the glove box. (You can buy one at gas stations if one isn't in the car.) Move the dial to the time you arrived and put the disk in the front window on the dash facing out so that parking attendants can see the time. Be sure you move your car before the parking time expires to avoid a ticket.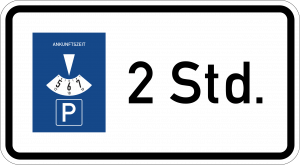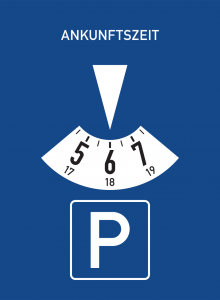 There are, of course, other road rules, and you can get more information about driving in Germany from the US embassy.


German Road Signs
There are more than a thousand different German road signs, but here are a few essentials.

RIGHT OF WAY
At an intersection, the yellow diamond means that you are on a priority road and have the right-of-way. Just because you're on a major road doesn't mean that you are on the priority road. Smaller roads with limited visibility may have priority and have the right-of-way.
If you have a white triangle with a red border, you must yield to cross traffic. If there are no signs at an intersection, the car entering from the right has the right-of-way. It might seem a bit confusing, but once you see it, you'll get the hang of it.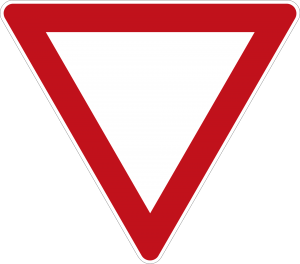 In the city, pedestrian zones are indicated with a blue sign showing children that will let you know that you're in a pedestrian zone, and the speed limit will reduce to no more than 7 km/h, about 4 miles per hour, a walking pace. People are allowed in the street, they have the right-of-way, and you have to wait for pedestrians.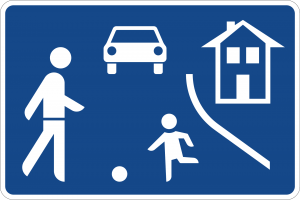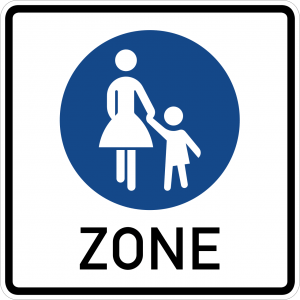 SPEED LIMITS
In Germany, there are several different speed limit signs. One when the speed limit starts, and another when it ends. The ending of a speed limit is new for American drivers, but it means that the standard speed limits apply at that point.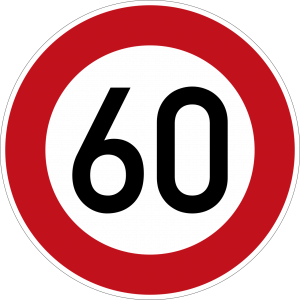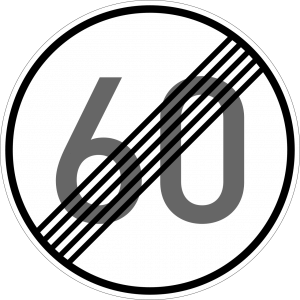 The standard speed limits are 50 km/h (31 mph) in city limits and 100 km/h (62 mph) outside of cities on more rural roads unless you see a posted limit that's different, and, of course, autobahn speeds are higher. You'll see a yellow sign with the city name on it when you enter the city limits and another sign with a slash through it when you leave the city. You'll know when the speed limit changes by the entering and leaving city signs.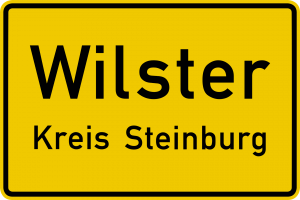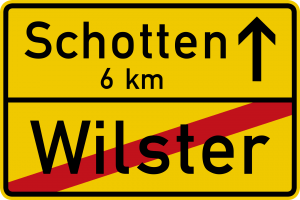 There are also minimum speed signs. Yes, go faster signs. These are blue signs showing the minimum speed. Like maximum speed limits, there are beginning and ending signs for the minimum speed areas.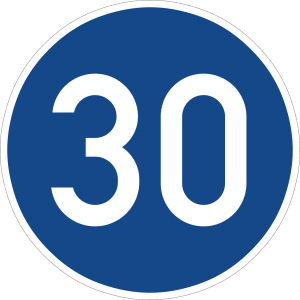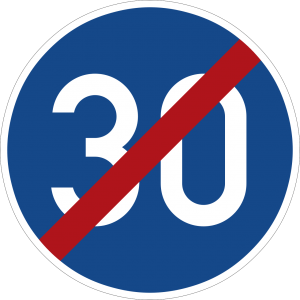 PARKING
There are many different signs to define no parking areas. Your best bet is to look for parking signs that designate a parking lot or parking garage.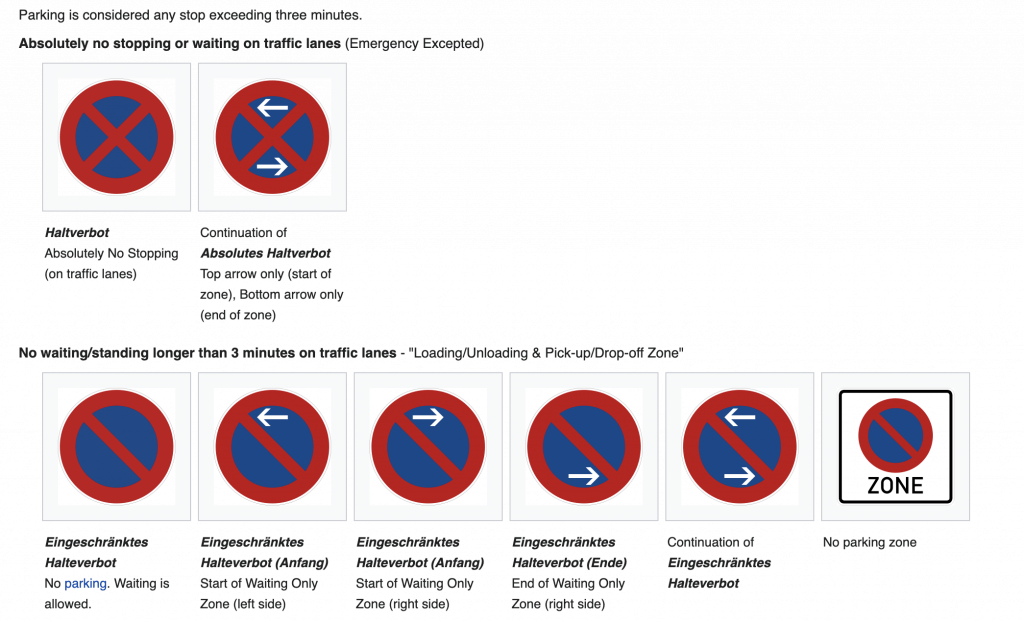 ENTRANCE & EXIT
A blue sign with the autobahn symbol will direct you to the highway entrance.


This is the sign for roadway exits. And if you can say Ausfahrt without giggling, you're a better person than I am.


✵
Let's Hit the Road

Want more insider travel advice & tips?
Sign up for the free newsletter!

« Review Your Credit Card Travel Protections | One Week In Provence, France »