Packing Guide for Europe and Beyond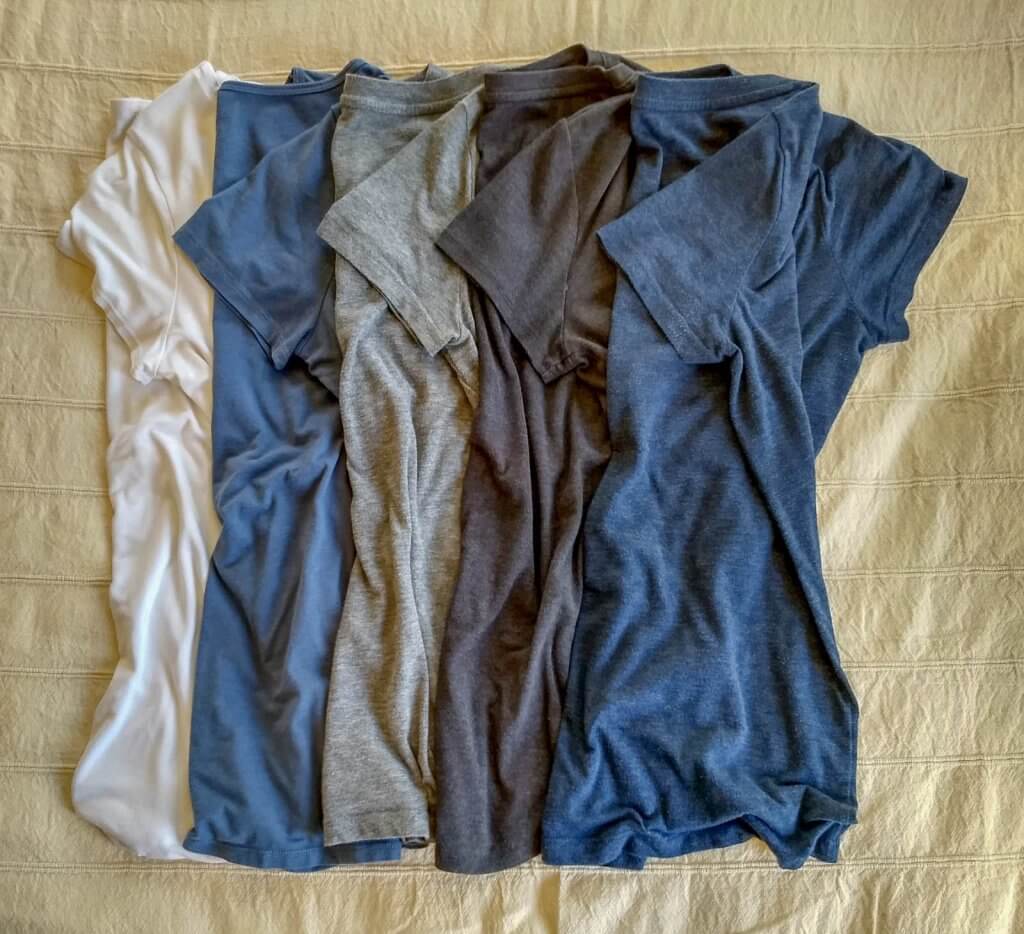 I always get so excited when we're planning a trip. After we've bought our flights, created an itinerary, booked our hotels, and reserved our car, I'm eager to get going and counting down the days. But first I have to get through the chore of packing, and I'll admit that when I first started traveling, packing would stress me out. What will the weather be? Will I need both a light jacket and a winter coat? Can I fit both in my bag? Do I need a dress in case of a fancy dinner? Can I make room for one more pair of shoes to go with the dress? Should I take this sweater that I bought years ago and have only worn once?
Take a breath, and repeat after me: I only need my passport and my credit card — everything else I can buy there if I have to. Now we can relax and start packing without the worry of feeling like we need to pack everything. In fact, forgetting something can be fun because then you have to go shopping.
I've kept a packing list over the years, and my travel experience has given me some tips I'll share with you.

The first packing rule is to pack light !
I cannot stress this enough. I know from my own mistakes that carrying around heavy bags or multiple bags is a pain. In many places in Europe, you'll be dragging your luggage over cobblestones, or up and down stairs because your hotel doesn't have an elevator (and if there is one it'll be tiny!). Hauling that luggage onto a train with small aisles and limited space can be a nightmare. Make sure you can raise your bags over your head to store it, and if you can't lift it on your own, you need to reduce what you're carrying (or bring a friend for the heavy lifting!). If you have more than one piece of luggage, you'll be doubling the difficulty.
With airlines now charging for checked luggage you might consider packing only a carry-on bag, and if you decide to go this route, you'll certainly need to pack light. A note on this point: if you're traveling with a partner, consider checking only one bag to save on checked luggage fees.
Even when traveling by car, there will be limited space for luggage. Since you'll want a small rental car for getting around compact European villages and tight parking spaces, it won't leave you much space for you and your bags.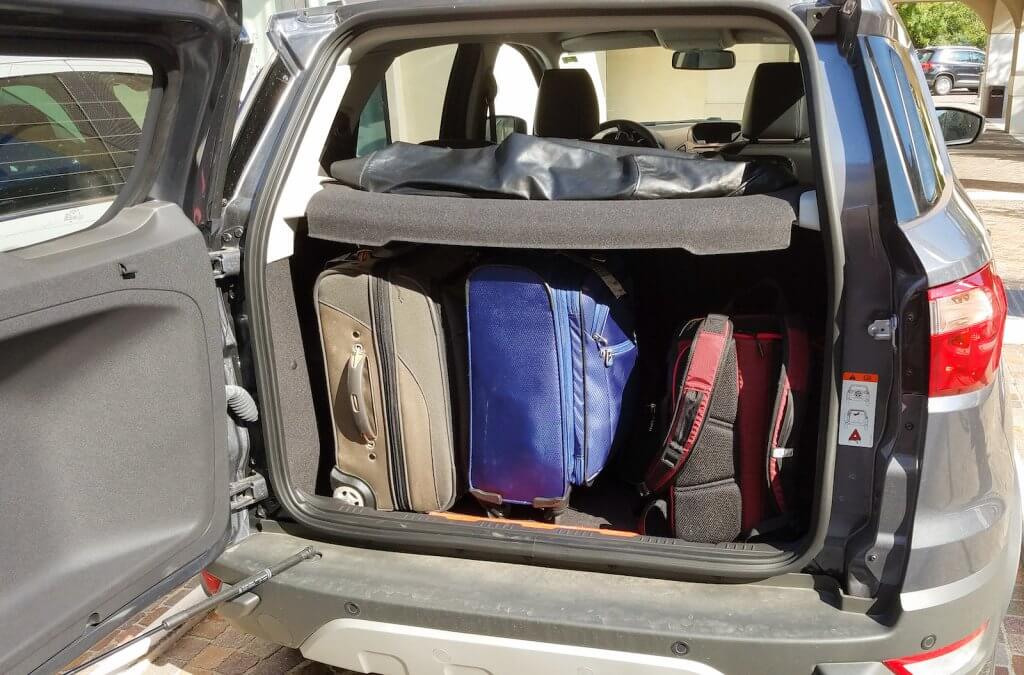 Always check TSA and Customs rules about what you can take with you and what you can't bring back. Yes, even if you've traveled many times, you never know what may have changed since the last time.
Travel Plug Adapters:

Don't forget that you'll need plug adapters for the country (or countries) you're visiting. I don't recommend an all-in-one adapter because they get too bulky and cumbersome.
Type E/F
Type L
Adapter for
Italy

Also, 2-prong Type C *see note below
Type J
The adapter for most of Europe includes the following countries:
Albania, Andorra, Austria, Belarus, Belgium, Bosnia & Herzegovina, Bulgaria, Croatia, Czech Republic, Denmark, Estonia, Finland, France, Germany, Greece, Greenland, Hungary, Iceland, Latvia, Lithuania, Luxembourg, Moldova, Monaco, Montenegro, Netherlands, Norway, Poland, Portugal, Romania, Russia, Serbia, Slovakia, Slovenia, Spain, Sweden, Turkey, Ukraine
*Note for Italy:
You may run across the 2-prong rather than the 3-prong outlet in some older buildings in Italy, but your 2-prong Type E / F adapter that works in most of Europe won't fit because the prongs are too thick. So, I suggest carrying these Type C 2-prong adapters that will work in 2 or 3-prong outlets in Italy.

Like most folks, you probably have phones and tablets and computers and other electronics, and hotel rooms are notorious for having too few outlets, so we always travel with a power strip and a 3-way outlet to charge our devices.

Michelle's Favorites:
Efficient Packing
Use packing cubes! Once I discovered these gems many years ago, I haven't packed without them since. They keep clothes tidy, my luggage stays organized, and I can fit more in one bag, They also help to keep dirty clothes separate from clean. They're awesome!

Day Bags / Purses
I'm a big fan of Baggalini bags, and particularly one with outside pockets where I can keep small amounts of money and not remove my whole wallet when I'm making purchases. It's safer to keep the important stuff hidden away when you don't need it. Also, a side pocket for a bottle of water or for a wet umbrella comes in handy.
Cross-body bags keep your hands free, but the bag is still close to you. Backpacks also keep your hands free, but aren't as secure since you can't tell what's happening behind you. It's polite to take up as little space as possible in crowded cities and on public transportation, and a backpack intrudes on space where a cross-body is easier to maneuver to keep out of the way.
Shoes
I've been wearing Born brand shoes for decades and they are my go-to travel shoes. I keep buying and wearing updated styles, but I have one pair that are more than ten years old, have taken me through Europe and Asia and back again, and they're still in great shape. Whatever brand you buy, look for shoes with good cushion and support, and they'll need a good gripping sole because wet cobblestones are very slippery.
Do yourself a favor and get your shoes wet before you travel with them. Walk in the rain and through puddles. Do they stay dry? It's awful when you discover too late that your shoes won't stay dry in rain or snow. I once needed to leave behind my favorite pair of boots in France because they were soaked through, and wet feet are a real bummer.

Intimates
For the girls, my most recent discovery is True and Co. bras. You always need to pack at least one extra bra, and they can take up a significant amount of space (or get crushed and underwires bent), but the True bras are incredibly packable. Not to mention, these are the most comfortable bras I've ever worn. I bought one to use specifically as my travel bra, but it became what I wear most days, and I've had to purchase several more. I love them!

Jackets and Coats
Staying warm can take up a lot of space, but packable down jackets and coats are perfect for travel. Choose the brand you prefer based on your budget and what fits best, but I'm a big fan of down jackets and coats that will squish into a small space. Look into LL Bean, Eddie Bauer, REI, or Lands End. I have both a short jacket that I take even for summer European travel (put a Texan in the Swiss Alps, and we get cold no matter the time of year) and a long coat for winter trips.
Other packing tips
Most hotels have hairdryers; they may not be great (and some are really interesting), but you don't need to bring your own.
Pick a color pallet and stick with clothes that you can mix and match.
I prefer to have two pairs of shoes so that if my feet get sore or start to develop blisters, I can switch them out and avoid continued irritation from wearing the same shoes. (I still pack moleskin to cover any blisters and protect sore spots.)
A rain jacket that can fold into a small pouch and a small umbrella are handy to keep in your day bag.
How to Choose Luggage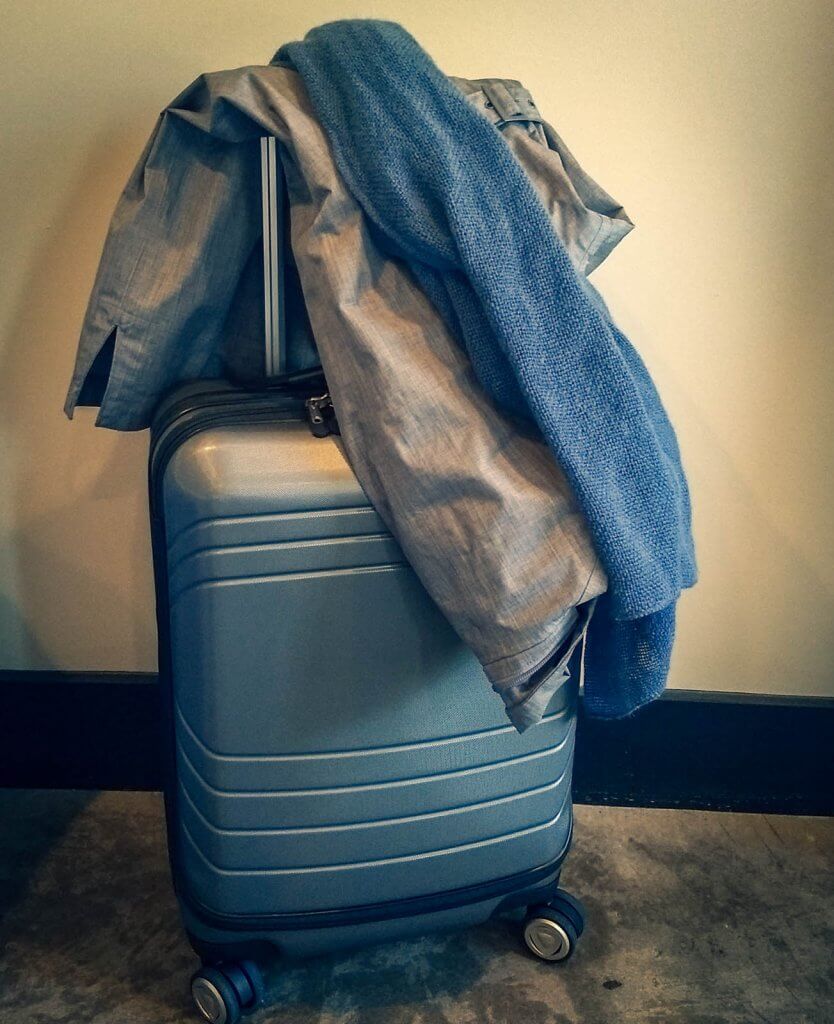 I know you're hoping that I have the secret to the best luggage and I'll tell you what you should buy, but y'all, there are so many different brands and different types of bags to choose from that I can't possibly cover them all. But I can give you some pointers and things to look for when buying luggage.
The first thing is the size. You can't pack light if you're dragging along a trunk, so you're looking for carry-on sized luggage. I know, I know. You're saying out loud that there's no way you can pack for two weeks in a carry-on. But you can, trust me. If I can do it, you can, too.
How? You'll re-wear several items. You won't have an outfit per day, but you'll have pieces that you can mix and match. When we're at home, many of us wouldn't dream of wearing the same thing for three days in a row, but when we're traveling, the standards change, and we'll wear things again and again. I mean, if it's clearly dirty and stained (Did that magnificent Italian bolognese decide to jump up and splatter down the front of your shirt? It can do that, you know.) then, sure, put it away and don't re-wear it. But otherwise, wear pieces several times.
I'll continue to sing the praises of packing cubes to help get more into your luggage. It sounds a little crazy to add additional things to what you're packing, but because the cubes compress your clothes, you can fit more in your bag.

Luggage Buying Checklist:
Small – Less than 22 inches is typically carry-on size, but it varies by airline, so be sure to check the baggage restrictions with the airline you're flying.
Lightweight – you don't want to start with a heavy bag that will only get heavier as it gets filled.
Look for side and bottom handles or grips. Once the bag is packed, you might need two hands to lift it over your head, and having a couple of places to grip it will help.
Check for sturdy wheels.
Check the telescoping handle and make sure it's secure, that it stays locked in place, and doesn't wobble.
If you're traveling with a backpack, try to minimize the number of straps and dangling bits that can get caught on things.
Michelle's Laundry Tips When Traveling:
| | |
| --- | --- |
| I carry travel packs of laundry detergent for small items that can be washed in the bathroom sink. (I pack these in my checked luggage because it's a liquid.) Pay attention to your itinerary and try to do the washing when you have at least two days in the same hotel to give things time to dry before re-packing them, but it's also a good idea to have a spare ziplock bag to keep damp things separate, and then let them continue drying at the next stop. | |
| | |
| --- | --- |
| I always have Shout Wipes in my day bag to quickly get to spills that will inevitably happen while I'm out exploring. | |
| | |
| --- | --- |
| A small bottle of Febreeze (or something similar) can help freshen up clothes and give you one more day before you put them in the 'can't wear again' pile. Remember to pack liquids in your checked luggage or make sure it's less than 3 ounces and fits in your quart-sized carry-on liquid bag. | |


If you're on a very long trip, you might have to do more laundry than a bathroom sink can handle. Laundromats can be challenging to find, but you might luck out and have one available where you're staying. (And enjoy the adventure of figuring out how to do laundry in a foreign language!) If you know you'll have laundry to do, remember to pack for it. Jeans and sweaters take a very long time to air dry so plan for that and pack lightweight, quick-drying items instead.
Your hotel might have a laundry service with a fast turnaround and, although the price might seem excessive, it can be worth the cost because no one wants to spend their precious vacation time doing laundry.


Packing List for Europe
When you're making your packing list, think of layers. It might be cold in the morning when you leave your hotel for the day's adventures, but by noon it could have warmed up considerably, and then as the sun sets the chilly air settles in, and you're still not back near your hotel and luggage. So, planning what to wear for a day with several different temperatures means you'll need to use layers.
We recently took a 14-day European trip in early September and I'll give you my packing list. I used a 21″ rolling soft-sided bag as checked luggage, a tote bag for my carry-on, and I had my day bag / purse.

My checked luggage packing list for Europe:
✓ 2 pairs of jeans
✓ 2 pairs of lightweight pants
✓ 2 skirts
✓ 2 pairs of leggings
✓ 5 t-shirts
✓ 3 camis
✓ 3 long-sleeve cotton shirts
✓ 2 lightweight cardigans
✓ 1 set lounge pants and shirt
✓ 8 pairs of merino wool socks
✓ 10 panties
✓ 1 bra
✓ 1 pair of Born loafers
✓ 1 pair of sandals
✓ 1 belt
✓ 1 packable down jacket
✓ 1 rain jacket
✓ 1 pashmina scarf
✓ Detergent packets
✓ Febreeze

Toiletries:
✓ Shampoo and Conditioner
✓ Face Cleanser
✓ Toothbrush, Toothpaste
✓ Floss
✓ Razor
✓ Deodorant
✓ Moisturizer with SPF
✓ Hair products
✓ Makeup
My carry-on packing list for Europe:
(always keep essential items in your carry-on with you and not in checked luggage)
✓ Passport and any required visas
✓ Medication
✓ Electronics and Chargers
✓ Power adapters
✓ Comfy socks for the flight
✓ Notebook and Pens
✓ Book / Magazine
✓ Eye mask and neck pillow
✓ Headphones
✓ Tissues
✓ Shout wipes
✓ Rain jacket
✓ Change of underwear, socks, and shirt (in case of lost luggage)
✓ Liquids in a quart-sized bag (hand sanitizer, eye drops, hand lotion, etc)

I wore on the flight:
✓ Leggings
✓ Skirt
✓ Cami
✓ Cotton shirt
✓ Fleece jacket
✓ Shoes (wear slip-ons with no laces to make going through security and removing shoes easier)

Remember to leave some space for all of the souvenirs you'll bring back!
Be sure to get a copy of my

✵
Pack it up, Pack it in

Sign up for the free email newsletter to get more travel advice & tips.

« The Secret to Finding the Best Airfare | Our Top 5 Munich Biergartens »