Take an Independent Tour of The Best Munich Beer Gardens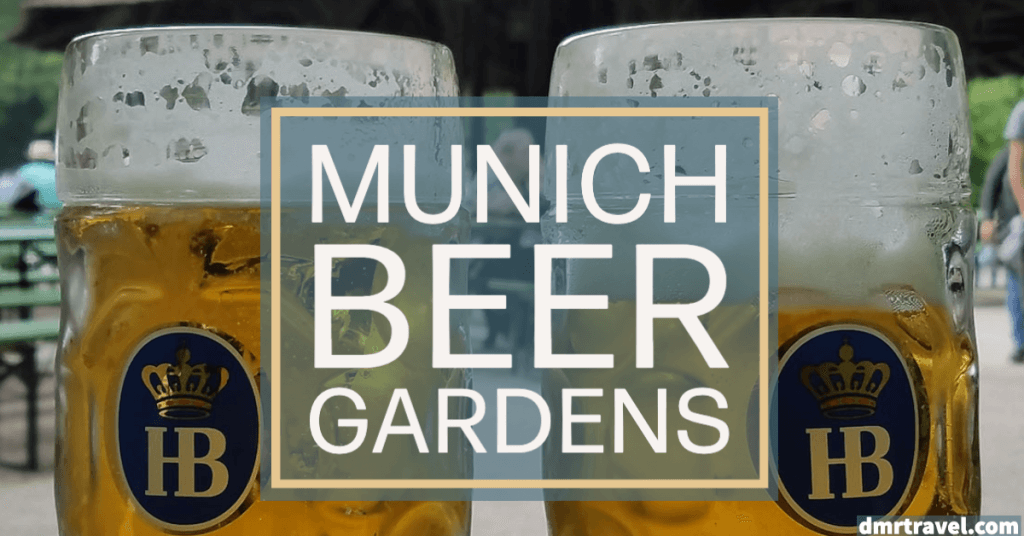 James and I love traveling to Germany, and Munich is probably our favorite city – not just in Germany, but of all the cities we've visited around the world. Munich has it all: museums, cafes, art, history, shopping, and, of course, beer. When most folks think of Germany, they think of men in lederhosen, women in dirndls, big glasses of beer, and Oktoberfest. You don't have to go to Oktoberfest to get all of the best of Munich's laid-back beer traditions, though. From spring, when the chestnut trees are blooming through fall, when the autumn chill starts setting in, the Biergartens (in English: beer gardens. See? You're learning German!) are festive and fun places to drink a Maß (pronounced 'mas', means a measurement or liter) of beer, eat hearty food, and enjoy the company of several thousand of your fellow beer drinkers.
On our first trip to Munich, we were shocked at the sheer number of people all in one place simply enjoying their beers because it was more reserved and quiet than you would expect with thousands of people drinking liters of beer. A Munich Biergarten on a beautiful day will be full of families and friends, children and adults, all enjoying the beautiful outdoor space. We were captivated with the charm and quickly settled in to absorb the gemütlichkeit. We even created a Biergarten in our yard once we returned home so that we could share that same feeling with our friends and neighbors.
There's nothing quite like a Bavarian Biergarten, and these are our Top 5 Munich Biergartens (and Bier Halls) that you shouldn't miss.

Our Top 5 Munich Biergartens
Address: Arnulfstraße 52
U-Bahn U3, U5 stop: Hauptbahnhof
S-Bahn S1 – S8 stop: Hackerbrücke
Tram 16, 17 stop: Hopfenstraße


Each time we arrive in Munich, the first stop on our Biergarten tour is the Augustiner Biergarten.
With seating for more than 5,000 people under ancient chestnut trees and an indoor beer hall as well, this is the perfect spot to spend an afternoon or evening (or all day). It's one of the oldest Biergartens in Munich, listed on city maps since 1812, and one of the best examples of traditional Biergarten culture. And if the weather doesn't cooperate for outdoor seating, the impressive interior beer hall is a great place to enjoy dinner, beer, and a lively atmosphere.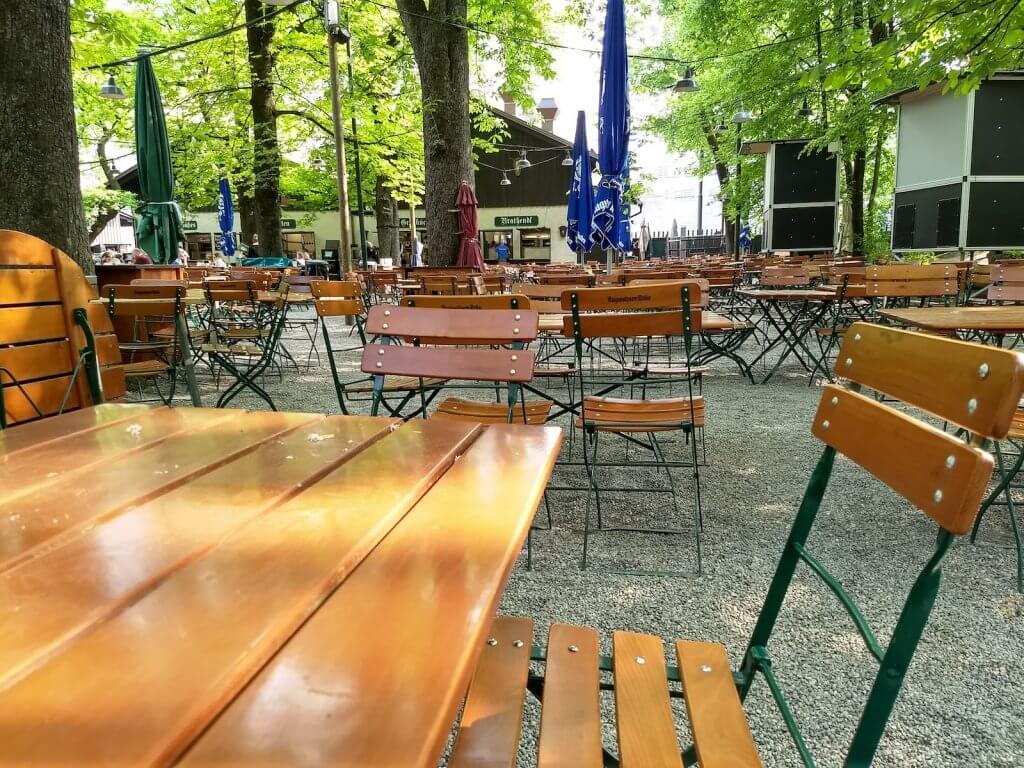 I'm ashamed to say that it took us countless visits to the Augustiner Keller before we found the actual Keller (cellar). A small, nondescript winding staircase takes you underground into the old cellar where the beer was originally stored before refrigeration. It's now a dining area with brick arches and barreled ceilings where you can enjoy a meal or rounds of Augustiner beer.
The Augustinerkeller is a short 5 to 10-minute walk from the Hauptbahnhof (the main train station), making it an easy Biergarten to get to from just about anywhere in Munich.
Tram 16 stop: Tivolistraße
Bus 54, 68 stop: Chinesischer Turm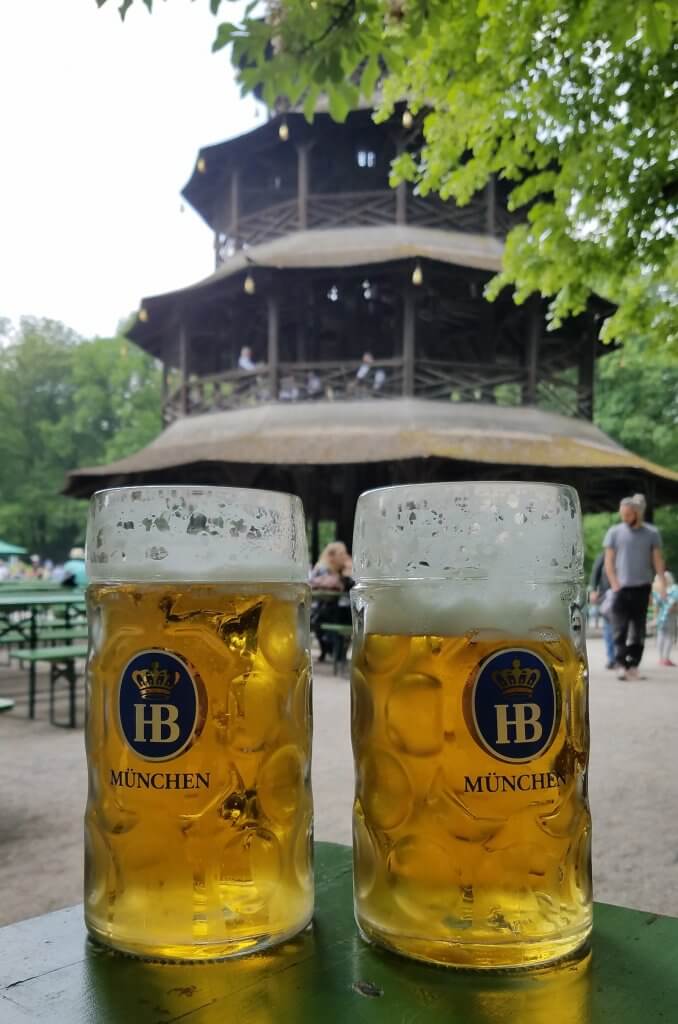 In the heart of the sprawling English Garden (seriously, it's big – more than 900 acres), you'll find the Chinesischer Turm Biergarten. You'll probably hear it before you see it. From the park's walking paths, you'll hear brass bands playing traditional Bavarian music in the 82-foot wooden pagoda as you get closer to the Biergarten. The Chinesischer Turm is the second-largest Biergarten in Munich, with seating for more than 7,000, but it doesn't feel crowded at all.
Enjoy a stroll through the Englischer Garten to earn that roast chicken, Obatzda, and Maß of beer. We once visited on a warm, sunny spring day, forgot that we had anything else to do, and stayed all afternoon taking in the music, the conversation, the food, and the perfect Biergarten atmosphere.
I highly recommend a walk through the Englischer Garten to get there, but there's a bus stop right out front, and a tram stop within a few minutes walk. You can also call a taxi if you've had a bit more beer than you planned and can't figure out public transportation. (Yep, been there. 😉)
S-Bahn S1, S2, S4, S5, S6. and S8 stop: München Hirschgarten
Tram 16, 17 stop: Steubenplatz
From either public transportation stop, there is a 10 to 15-minute walk.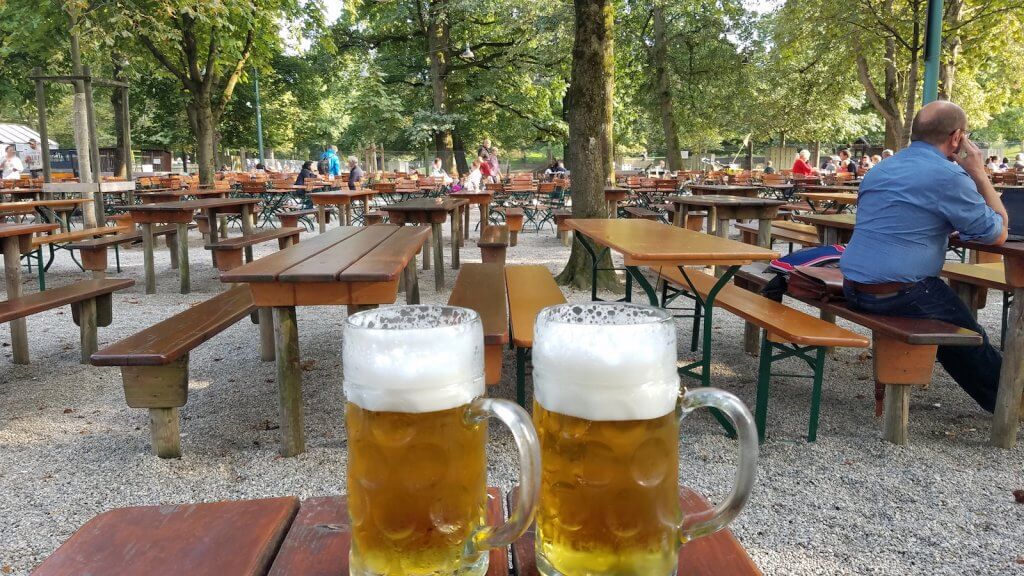 Hirschgarten (formally, Königlicher Hirschgarten) translates to Deer Garden, and there's a large park with friendly deer that you can feed. It is the world's largest Biergarten with seating for 8,000 under massive chestnut trees, and it's a sight to see when it's filled with folks enjoying their beers and food and conversation. Having a beer in the world's largest Biergarten should be on any beer lover's bucket list. It's a bit far from the city center, but I suggest you make a day of it with a visit to Nymphenburg Palace that's just a short walk away.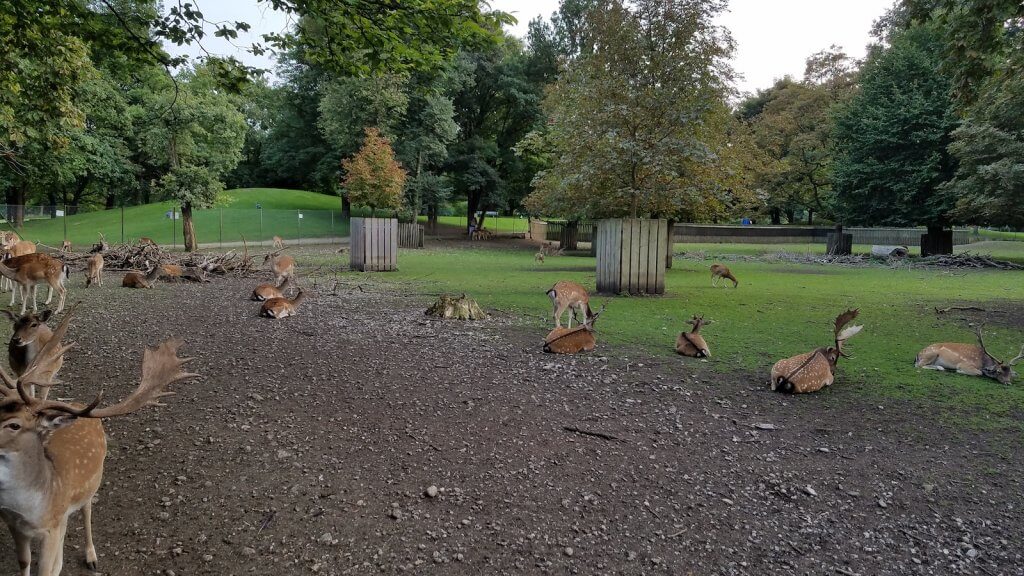 Address: Innere Wiener Straße 19
U-Bahn U4, U5 stop: Max-Weber-Platz
Tram 17 stop: Wiener Platz



Hofbräukeller (not to be confused with Hofbräuhaus), is a beautiful Biergarten on the east side of the Isar river outside of the Altstadt. This Biergarten is smaller with a more neighborhood feeling with seating for 1,700 of your beer drinking neighbors. Hofbräukeller is a very family-friendly Biergarten, it includes a reserved space for twenty children where parents can leave the kiddos with childcare staff. The adults can enjoy their beer time and the kids get their time in the playground. Win – Win.
It's a little off the tourist path and one of my favorite Biergartens to get us out of the hustle of the city center and into a more quiet area of Munich.
Address:Theresienhöhe 15
U-Bahn U4, U5 stop: Schwanthalerhöhe


Tucked away near the Wiesn (the Theresienwiese where Munich holds the Oktoberfest each year) is the Wirtshaus Biergarten at Bavariapark – a smaller Biergarten that holds 1,200 that's relatively new on the scene. Its location is near Bavariapark, the Wiesn, and Verkehrsmuseum (a fascinating museum dedicated to the history of transportation), and it's a lovely area of Munich to explore.
Our Favorite Wirtsgartens
A Wirtsgarten is different from a Biergarten.
A traditional Biergarten is self-service and allows you to bring in food, but you must purchase the beer there. There are usually food options available for purchase if you don't bring your own. Really good food, too.
A Wirtsgarten, on the other hand, is an outdoor area served by the waitstaff of the restaurant or beer hall where it's connected and does not allow you to bring in food of your own.

Address: Platzl 9
S-Bahn stop: Marienplatz
U-Bahn U3, U6 stop


Right in the middle of Munich's city center is the Hofbräuhaus, probably the most famous beer hall in the world, and for good reason. The beer hall and brewery were originally built in 1589 (with a bit of remodeling and rebuilding since then. Its popularity is justified by the festive and lively atmosphere, delicious traditional Bavarian food, and fantastic Hofbräu beer, of course. With live oompah bands every day in the beer hall and a courtyard beer garden filled with folks enjoying giant beers under shady trees, it's the perfect way to experience Bavarian culture.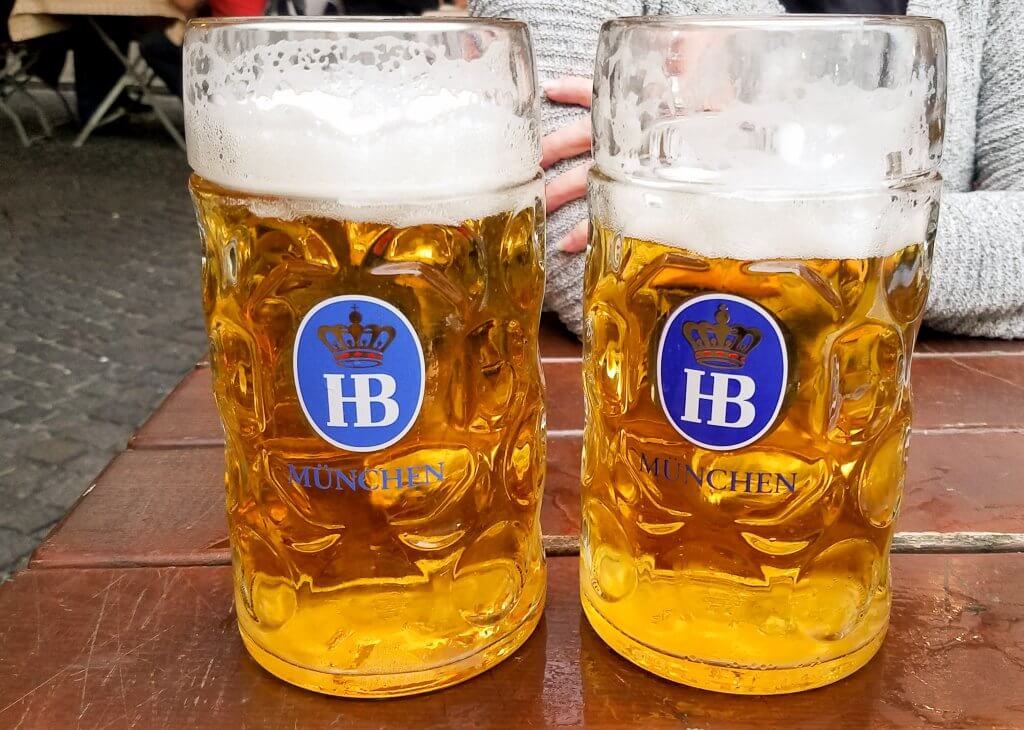 We've had both excellent service and not-so-great service here, but the legendary atmosphere of the Hofbräuhaus is worth a stop when you're visiting Munich. In fact, I don't think you can visit Munich and not visit the Hofbräuhaus.
Address: Nymphenburgerstraße 2
U7 Ubahn stop: Stiglmaierplatz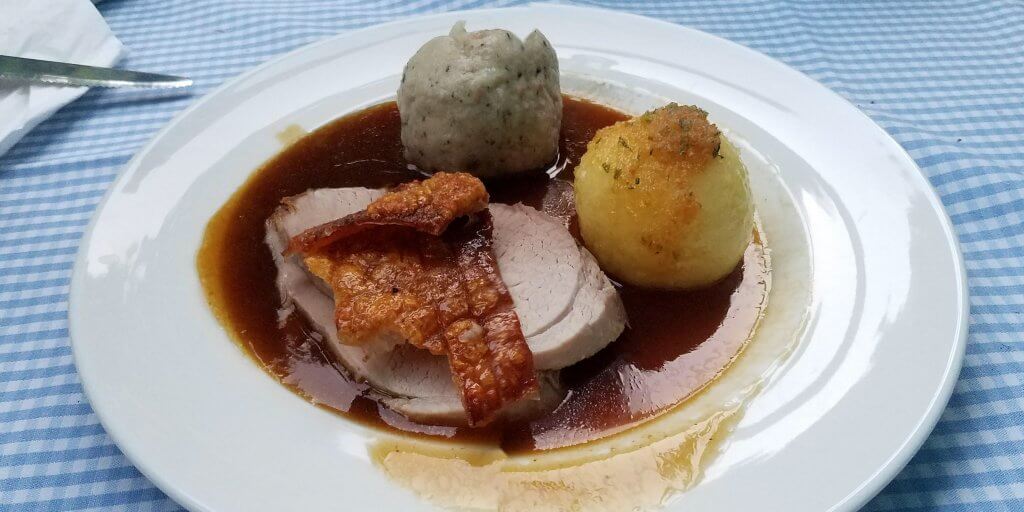 While Löwenbräukeller does have a traditional Biergarten where you can bring your food, I highly recommend purchasing your meal at the restaurant. Not only is the Löwenbräu beer some of the best that Munich (or the world) has to offer, but the restaurant also serves up some of the best examples of German cuisine you can find in one place. If you're with a group dining indoors in the Bräustüberl, order the Bayerische Schmankerlplatte. It's a tasting plate with duck (Bauernente), pork knuckle (Haxe), sausages (Rostbratwürstl), gravy (Bratensauce), red cabbage with apples (Apfel-Blaukraut), sauerkraut (it's the same in English and German!), and potato dumplings (Kartoffel-Semmelknödel). It's the perfect sampler platter, but be warned: it's enormous!


Be sure to try some traditional biergarten snacks with your beer!


Our Top 5 Munich Biergartens

✵
Prost!
Want insider travel tips and news?
Sign up for the free newsletter!

« Michelle's Europe Packing Guide | Off-The-Beaten-Path Travel Experiences »