My love of travel and my love of wine combined to create
the perfect way to see and taste the world.
– Michelle
---
Paris is a wonderful city for leisurely strolls from one glass of wine to the next. You don't have to look far to find the wine vibe you're looking for in Paris, from casual cafes for a quick sip to poring over an extensive wine list with top producers to choose from. I tend to go for more informal settings where we can linger and chat, and my recommendations will always lean more relaxed than stuffy.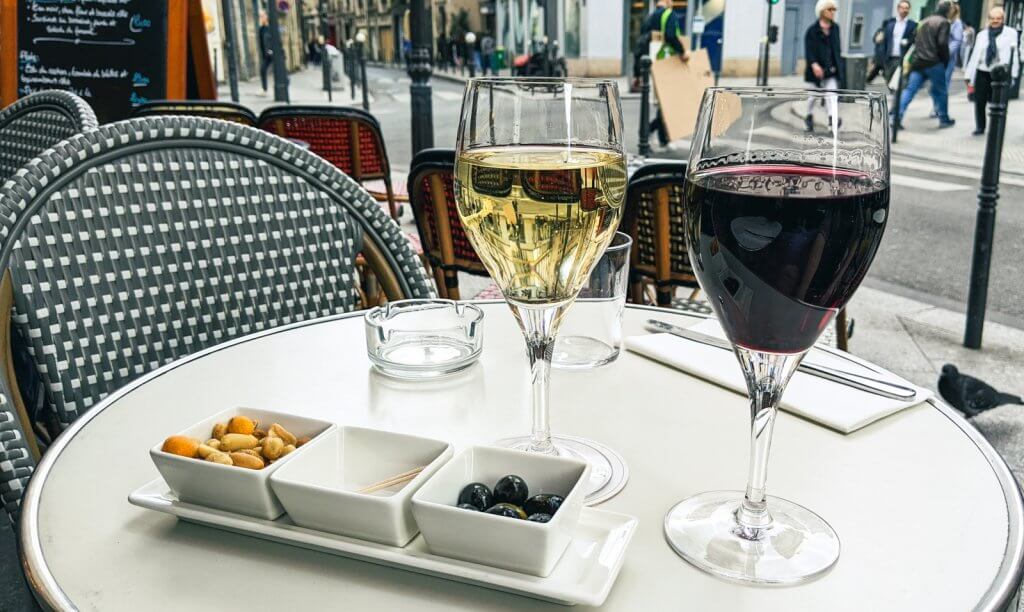 Not all of my favorite wine stops in Paris are bars. Some of them are wine shops that also have tastings by the glass, or you can buy a bottle (or two) to drink there or take home with you. Stopping in on a quiet evening and chatting with the staff, telling stories, and enjoying wine together is always time well spent.
Paris is a city for sitting outside no matter the time of year or even the weather. When the wine mood strikes, pop into any cafe or bistro with open tables on the sidewalk and spend some time with a glass of wine just taking in the city and the atmosphere. Then wander to the next one.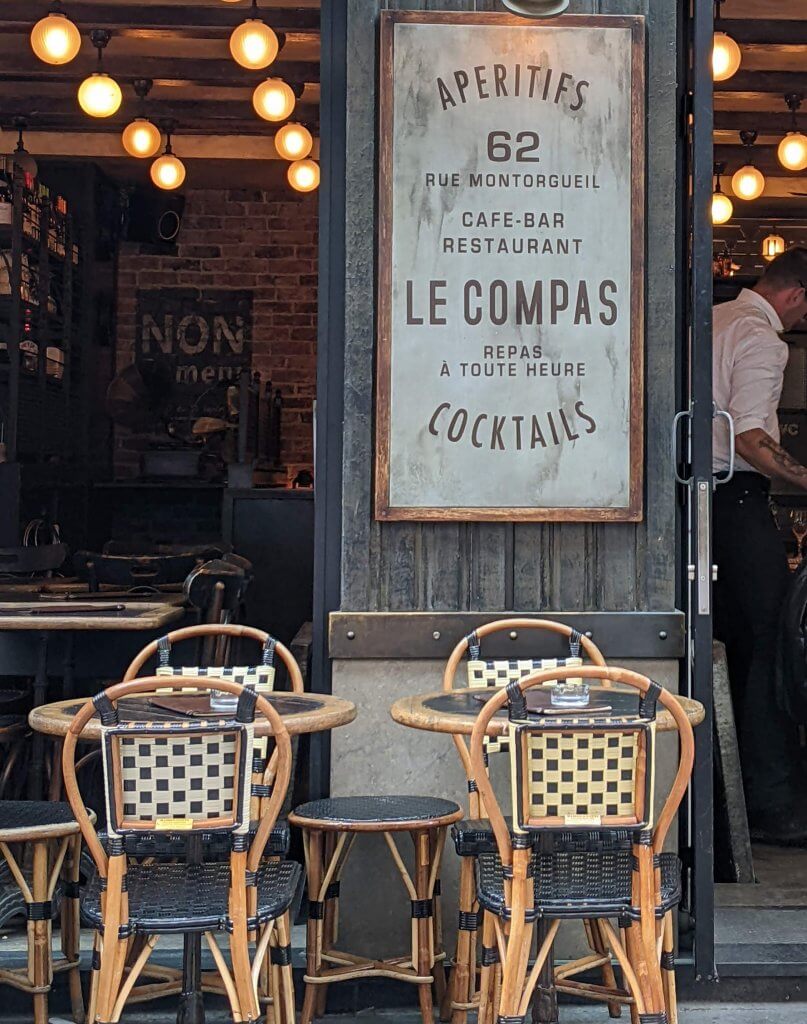 Paris is a very busy, crowded city, and bars, restaurants, and cafes are small. Many spots in Paris fill up quickly, so you may prefer to make a reservation if there's a place you definitely want to visit and don't want to miss. Or go early to grab a table and plan on staying for the evening rather than trying to find another open seat somewhere else. If you're in a group of more than two, I recommend reservations for the evening hours.

NOTE: Many small restaurants and shops will close in the afternoon between lunch and dinner service, but you can look for "service continu" on placards, which means service continues uninterrupted throughout the day. Dinner service starts on the later side, and some restaurants won't open in the evening until after 7:00 pm.
❖ Click Here for more info about dining in Paris ❖


There are too many wine bars and shops in Paris to mention here, but these are some of my favorites that are centrally located and have something unique to offer. I've arranged the list by Arrondissement and FUN FACT: the last digits in the Paris zip code will tell you which arrondissement the address is located.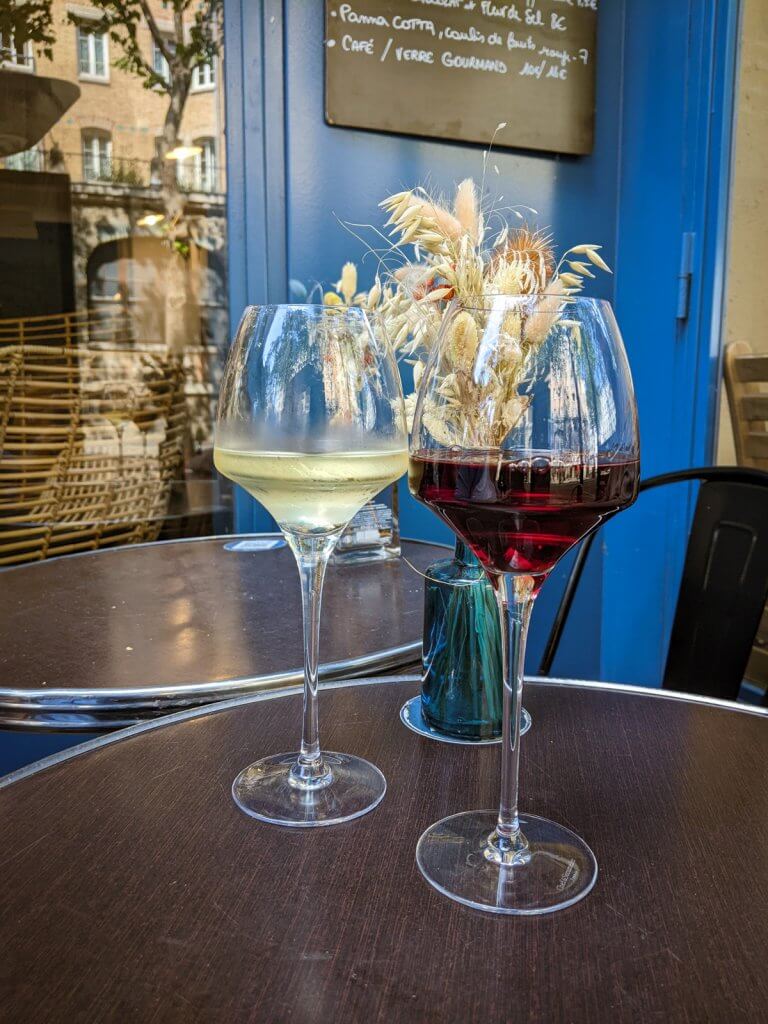 1st Arrondissement:
Le Willi's Wine Bar
13 Rue des Petits Champs, 75001 Paris, France
Opened in 1980 by Mark Williamson, Le Willi's Wine Bar has an ever-changing list of wines by the glass and a daily menu to keep your belly happy. Mark is a fan of Rhône wines, but the wine list covers many wine-producing areas with plenty to choose from. There isn't much of an outdoor space, but the art-filled interior is roomy. You can also purchase one of the custom posters as a souvenir. Reservations recommended.

---

Ô Chateau
68 Rue Jean-Jacques Rousseau, 75001 Paris, France
Ô Chateau wine bar is perfect for folks who may be new to French wine because they offer daily tastings hosted by a wine expert. If you're interested in getting some knowledge with your glass of wine, this is an excellent spot in the heart of Paris. Sign up for a tasting and then stick around to enjoy a bite and discover the more than 1,000 bottles on the extensive wine list. Purchase tickets for the wine tasting in advance.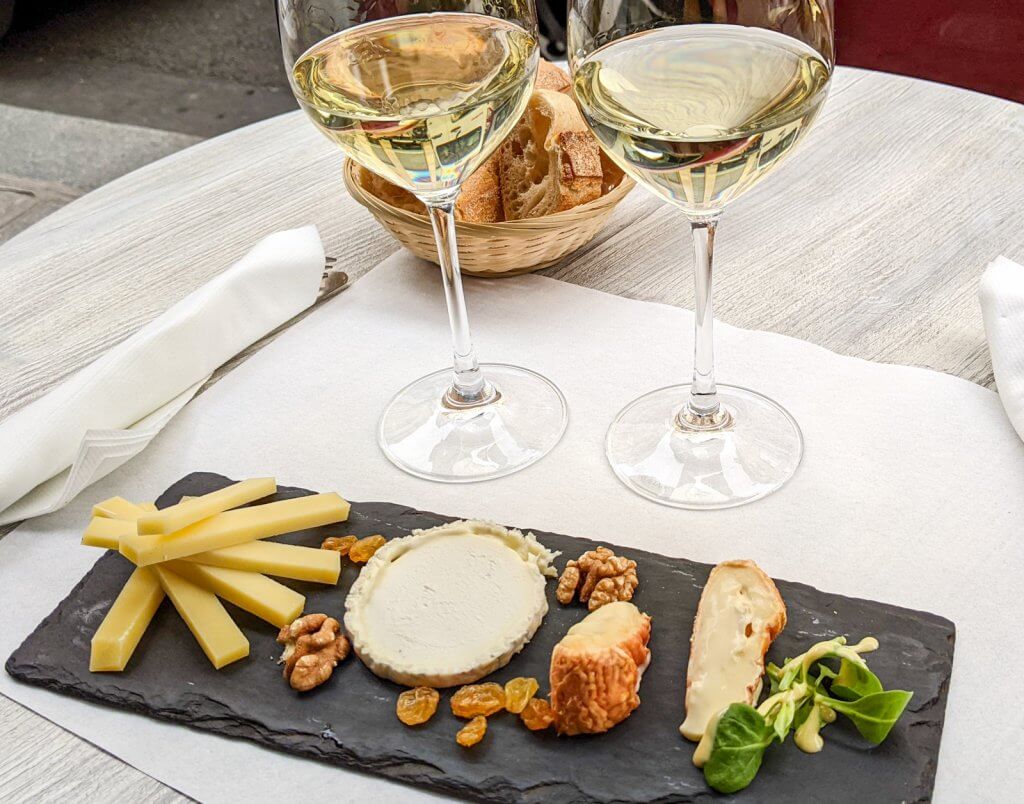 3rd Arrondissement:
Le Pinardier
65 Rue de Bretagne, 75003 Paris, France
If favorites are determined by the number of times we've stopped in, then Le Pinardier is our favorite. They open at 4:00 pm, and several times we've stopped in for "just one glass" but didn't leave until late into the evening. There is no by-the-glass list per se; instead, you can let the waitstaff know what you're looking for, and they'll make a recommendation for you. With more than 350 wines in the cellar, the knowledgeable wine folks always have a fun selection on hand for you. A small menu is available, and a highlight is the Bourguignon Tacos. Delicious!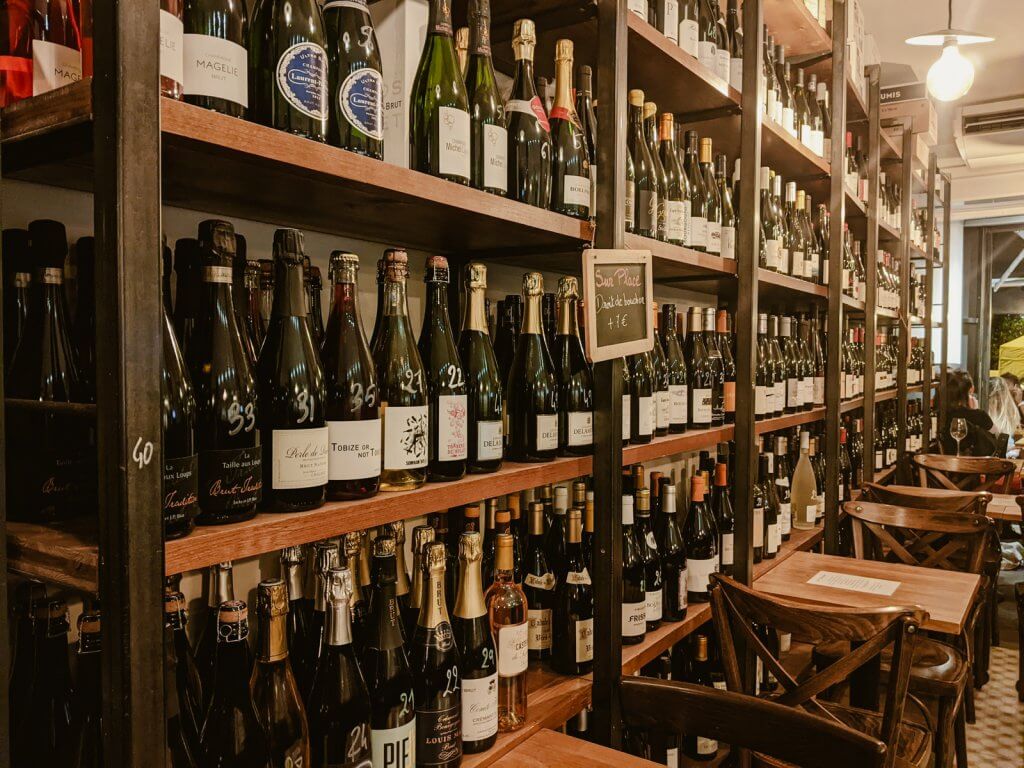 ---

Poupée
2 Imp. Berthaud, 75003 Paris, France
Tucked in on a dead-end alley near The Centre Pompidou, you'll find this little gem of a wine bar. Poupée's cozy terrace is usually buzzing with lively conversations and folks sharing cheese and charcuterie boards. This is another spot where you'll rely on the staff to help you make your wine choice, and the knowledgeable staff never steered us wrong. They have a unique and unusual way of serving because the bottle is left on the table, and you pay for only what you drink. Yes, you'll probably finish the bottle as you lose track of time in this fun spot.
7th Arrondissement: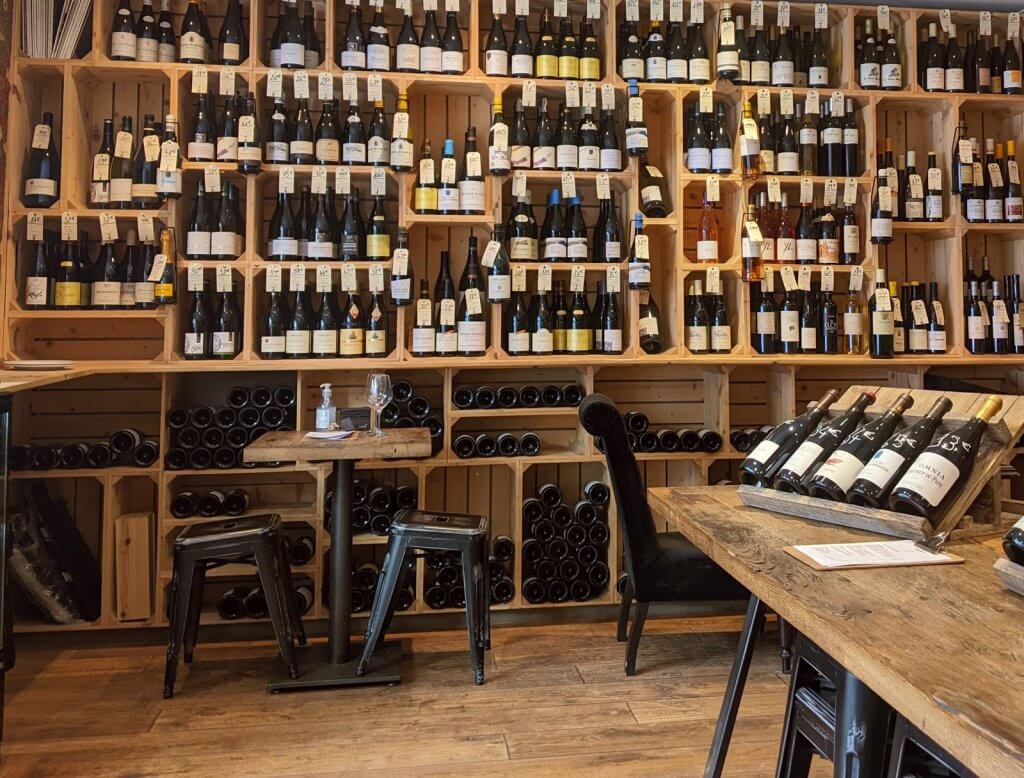 La Cave des Climats
35 Rue de Verneuil, 75007 Paris, France
La Cave des Climats wine shop is the award-winning wine cellar of the Michelin-star restaurant Les Climats. The shop has a focus on the Burgundy wine region, and you'll find some true gems here. They offer a tasting list of wines by the glass, or you can opt for a bottle from the incredible wine book. A menu of small bites is also available.

---

Comptoir des Elixirs
90 Rue du Bac, 75007 Paris, France
Specializing in wines and whiskies, Comptoir des Elixirs is a wonderful stop for having a glass or buying a bottle to enjoy there or take with you. Recently opened in 2021, a small wine bar at the back of the shop is an intimate, casual spot for enjoying some wine time. Small nibbles are also available. The friendly staff is what makes this shop worth the stop. Say hello to Marc and Sandrine.
11th Arrondissement:
Le Vin de Possibles NOW: Faim & Soif
41 Rue Faidherbe, 75011 Paris, France
UPDATE:
Unfortunately, Le Vin de Possibles has closed, and it is now Faim & Soif. I haven't visited since the change and can't give a recommendation until I have a chance to see the new place. But if you get there, let me know your thoughts.

---
Do you have a favorite wine spot in Paris that I didn't list? Let me know, and I'll make a stop the next time I visit.
Cheers!
« Germany's Magical Christmas Markets |