How to get there, Where to stay, How to get around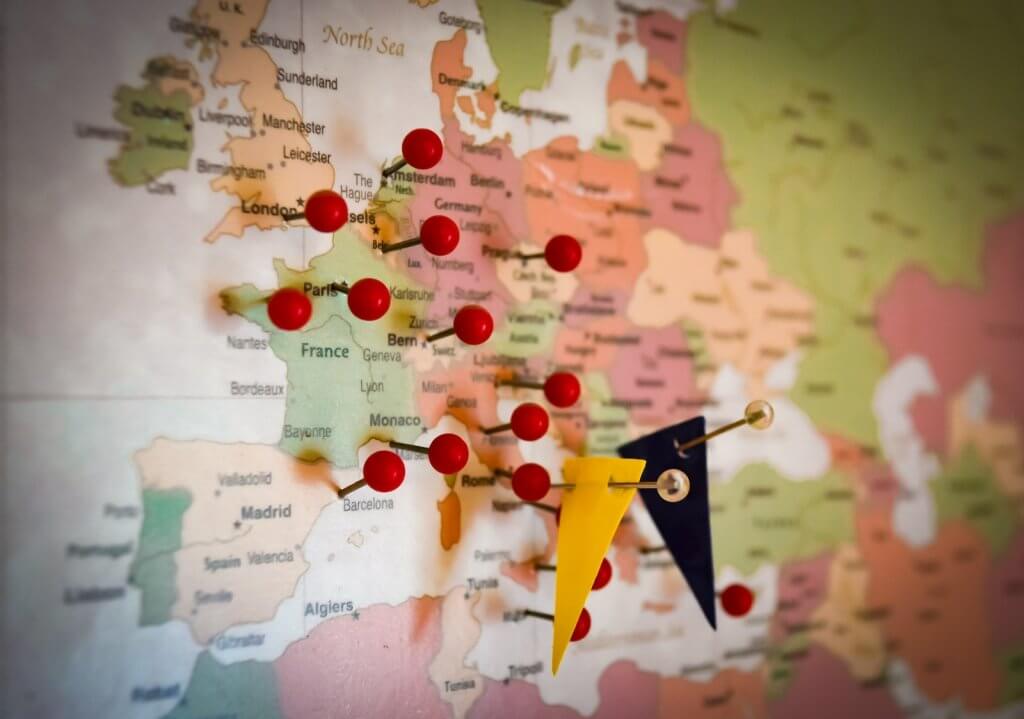 Let's talk about some travel basics and how to plan a trip that works best for you. Every traveler is unique and wants to get different experiences from their travels, but there are some basics to help make the travel planning easier and the journey more enjoyable. This first post in the Travel Basics series will start with airfare, accommodations, and rental cars. I know this information might be rote for the more experienced travelers, but we were all a new international traveler at some point, and I hope these planning tips help you plan your trip with confidence.


Let's start with airfare.
You might find a fantastic price on your airfare, but it requires 3 or more connections or a very long layover (spending 11 hours in any airport is a new level of hell). So, is that airfare a good deal? Some small, out-of-the-way, destinations require several stops and connections to get you where you're going, and you won't have a choice, but when you have the option, always look for the least amount of stops, even if you have to pay a little bit more.
Pay attention to the connections when they're necessary, and make sure you give yourself plenty of time to grab a bite to eat, use the restroom, and all of the other things you need to do before getting on your next flight (after security, don't forget to grab a bottle of water). We've connected in several massive international airports where it took hours to get from arrival to departure gate simply because of their size. You'll also need to account for time getting through customs, immigration, and security – I like to plan for at least two hours.
You can't control the weather, but it's helpful to know a little bit about the weather patterns at a connection airport. There's nothing worse than getting to a connecting airport, having bad weather blow in, and then watching as the screen fills with canceled flights one by one. Lesson: try to avoid connections through Chicago in the winter or Miami during hurricane season.
Just remember to look for THE BEST airfare, not necessarily the cheapest.

☛ Click Here to get more in depth tips for finding the best airfare.



Choosing Accommodation
Price, Location, or Amenities: pick 2.
You will rarely find something at the perfect price, in the perfect location with perfect amenities. If you do see something that checks all of those boxes, then book it as soon as you find it available. But for most of your travels, you'll need to consider the two criteria most important to you and search for what works best for you.
Keep in mind that most European hotels are much smaller than what we're accustomed to in the US. There was once a bathroom shower that was so small both of my elbows touched the sides. And, yes, there are still some hotels that don't have private bathrooms in the room, but instead, it's a shared bath down the hall. If that's a deal-breaker for you (it is for us), then make sure you're looking out for it. You'll find more spacious accommodations in large business hotels, but they're usually much further from the city center and won't give you the charm of a smaller, centrally-located property.
When traveling somewhere new, take a look at Google maps and search for hotels in the city you'll be visiting. It'll give you a good idea of where the sightseeing area is located judging by the concentration of hotels. You'll want to stay centrally located and within walking distance or short public transit rides to where you'll be spending most of your time. With your limited time, you don't want to spend it all just commuting to and from the places you want to see.
If you're traveling by car, search for hotels with parking available. There will likely be an additional parking fee, and the parking area will be small and limited, so you'll need to reserve a space when you book your hotel (and hopefully, you've picked the most compact rental car possible that will fit you and your luggage and still fit into parking). Driving and finding parking in the city center can be a challenge so we try to avoid it. That means finding a hotel with parking might be a little further from the center, so look for accommodation with public transport nearby.
Your budget is your budget, and your accommodations need to be what you're most comfortable spending versus your room requirements. We all want to stay in a 5-star hotel at hostel prices, but that's not likely to happen. So, weighing amenities, comfort, cost, and location is entirely up to you. Everyone needs something a little different and will have different priorities. Remember, you'll spend very little time in your room because you'll be out exploring, so you probably don't need a lot of bells and whistles.
You might find a couple of different prices when you're booking your hotel – one is a lower price but is non-refundable, and the other is a refundable option at a higher rate. I prefer to reserve the refundable option because our plans often change. Some folks are comfortable booking the non-refundable option, but I'll recommend purchasing travel insurance for unforeseen issues.
There are many ways to search for and book a hotel, but I recommend booking.com. We've been using this site for personal travel for many years and have always had a good experience. If you're booking several rooms, though, it's best to contact the hotel directly for availability and rates.


Transportation: Rental Cars and Trains
Driving in Europe can be an absolute pleasure. (Hello, Germany!) Or it can be a white-knuckle, heart-racing, panic-inducing, thrill ride. (I'm looking at you, Italy.) Before you set out, be sure to do your research, and learn the rules of the road. There are some differences (some significant) from driving in the US that you'll need to know. Also, most cars in Europe have a manual transmission, so make sure you're comfortable driving a stick shift before you decide on traveling by car. Many cars are diesel so double-check that you're using the right fuel for your rental car when you fill up (yes, there's a story there).
Probably the most important thing when choosing a rental car in Europe is the size. Roads are small, parking spaces are small, parking garages are small, and large cars are difficult to navigate through those tight spots. If you're considering a Mid-size rental, drop down to a Compact. If you have several people on the trip and you think you need a Full-size or larger, then consider traveling by rail instead of by car.
Car rentals can be very cheap as long as you're picking up and dropping off in the same country, but if you're taking a one-way trip from one country to another, the cost can get very high. And in some cases, your rental agreement forbids taking the car across certain borders (be sure to read the fine print or ask). This situation is where rail travel can help. Pick up the car in one country, return at a rental location before you hit the border, then continue your journey by train. It will take some planning because you'll have to find a rental return on your route or change your route to return the car, but it's a great way to save a lot of money (and stay within the rental rules).
Driving in congested city centers can be confusing and frustrating, so I recommend that you try to avoid it. If you're staying in a large city for a few days, return your rental car before you begin your stay and pick up again before the next portion of your drive. Returning the rental saves you the hassle of driving in the city and then finding and paying for parking. Rental car returns are usually easiest at an airport because many times it's difficult to find a return location in the city center. From the airport, you can take public transport or a taxi.

Some countries require an IDP in addition to your home country driver's license; Italy is one. Some countries don't. It's easy and inexpensive to get an IDP at your local AAA office, so if you're in doubt, go ahead and get it. It's really only required when dealing with traffic police, so hopefully, you never have to show it.

▸▸ Do I need rental car insurance or the Collision Damage Waiver (CDW) offered by the rental agency?
Some countries (Italy and Ireland) require CDW as a part of the rental. The optional CDW can often cost more than the car rental, so I recommend you check with your credit card to see what coverage they offer for rental cars. Get a description of coverage from your credit card company, and after you confirm the coverage (and know the restrictions) with your credit card, you can decline the CDW. Be sure to use the same credit card to reserve and pay for the car because using different cards might invalidate the coverage. If you're considering travel insurance, your provider might offer collision coverage, but be sure you know the restrictions.


☛ Click Here to get more in-depth rental car tips and Germany driving rules.

✵
Start with the basics.

Want insider travel tips and news?
Sign up for the free newsletter!

« Yes, you can visit again (and again, and again) | The Secret to Finding the Best Airfare »