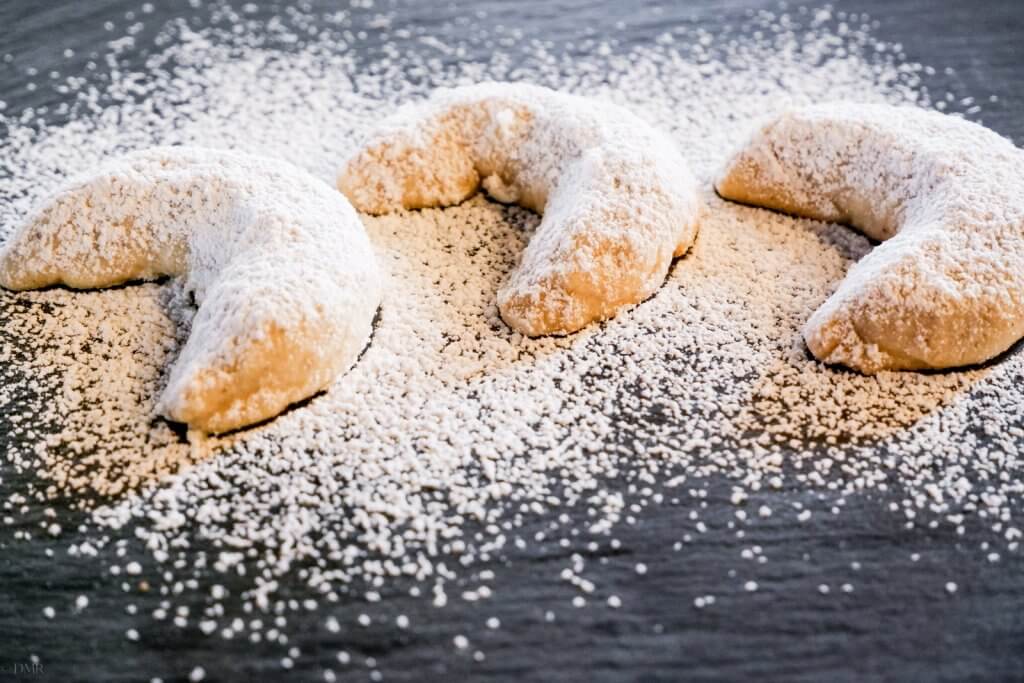 One travel experience I wish for everyone is a visit to Europe at Christmas time — Germany in particular. The German Christmas markets are magical with the festive atmosphere, the Glühwein, and the enormous variety of snacks and sweets.
Since we can't be there this year, I'm bringing the Christmas markets to my kitchen and baking as many traditional German treats as possible. One of my favorites is Vanillekipferl. I always thought it was a German Crescent Cookie, but it actually originated in Austria. Close enough, I guess?
Vanillekipferl is a light, crumbly, almond shortbread cookie with a hint of vanilla. There are very few ingredients, and it comes together quickly. Make sure you have enough ingredients on hand to make another batch because they'll disappear fast, and you'll wish you had more.
I prefer almonds, but ground walnuts are acceptable, and some say the more traditional ingredient.
Vanilla Sugar
The most difficult part of making this cookie (and it's not that hard) is finding or making the vanilla sugar. It's not an ingredient that's easy to find in the US, but you can order it online or find it at specialty stores, but you can also make your own with vanilla beans and sugar.
I keep used, deseeded vanilla beans in a jar of sugar and let it sit for, well, forever. It'll keep indefinitely; just replenish the sugar as you use it and add deseeded vanilla pods when you have them. If you don't already have some on hand, to quickly make vanilla sugar, split and scrape 1/2 a vanilla bean and mix the seeds with 1/2 cup of standard granulated sugar in a jar and shake it up to combine. Keep the empty vanilla pod with the sugar in an airtight container.
For this recipe, if you don't have vanilla beans available, you can pulse together 1/2 cup of sugar and 1 teaspoon vanilla extract in a food processor until it's the same color. It'll be damp, so you need to spread it on a tray to dry for at least 30 minutes. Then process it again to remove any clumps.
Ground Almonds
For the ground almonds, I like to toast the whole almonds at 350 degrees for about 10 minutes, then cool. Process whole almonds in the food processor until ground into a fine, sandy texture. Be careful with the processing so that you don't make almond butter. You can also use almond meal if you don't want to process the almonds.

*Special Equipment:
Food processor
Stand mixer with paddle attachment or hand mixer
Ingredients:
250 g (2 cups) All Purpose Flour
200 g (3/4 cup) Butter softened to room temperature and cut into small cubes
100 g (1/2 cup) Ground almonds
30 g (2 tablespoons) Vanilla sugar
45 g (1/3 cup) Powdered sugar
1/2 Vanilla bean, split and scraped to get the seeds
To finish:
45 g (1/3 cup) Powdered sugar, for dusting
Directions:
In a food processor, pulse vanilla sugar, powdered sugar, and vanilla seeds a couple of times to distribute the vanilla. (You can skip this step, but the vanilla seed might not distribute well in the dough.)
In a stand mixer or with a hand mixer, knead together the flour, cubed butter, ground almonds, and sugar (and vanilla if you skipped the first step) until it forms a ball and pulls away from the sides of the bowl.
Form the dough into a log, wrap in plastic wrap, and refrigerate for at least 30 minutes.
Preheat oven to 350 degrees.
Prepare two baking sheets with silicone mats or parchment paper.
Work with 1/2 the dough at a time, storing the other 1/2 in the refrigerator. With your hands, form the dough into a thin log about two inches in diameter, cut the log into pieces about one inch, and form each piece into a crescent shape. I do this right on the tray rather than the counter so that it's easier to move the formed dough.
You should get between 32 and 40 cookies depending on how big you make them.
Bake at 350 for 15 – 18 minutes. The cookies should still be pale but just starting to turn golden around the edges.
Remove from oven and dust with powdered sugar while they're still warm. Store in an airtight container at room temperature. (assuming you don't eat them all immediately)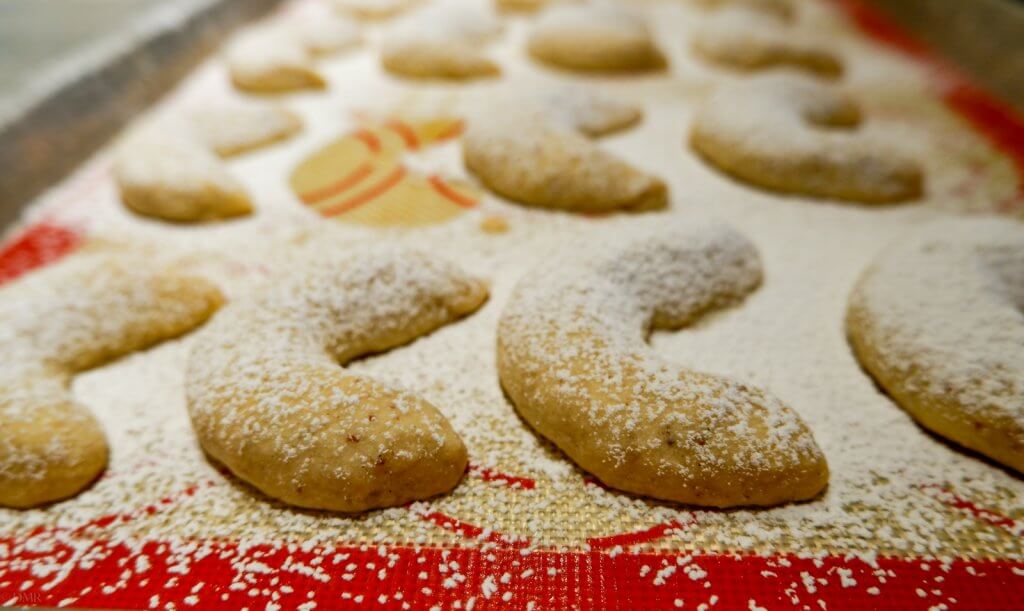 Happy baking!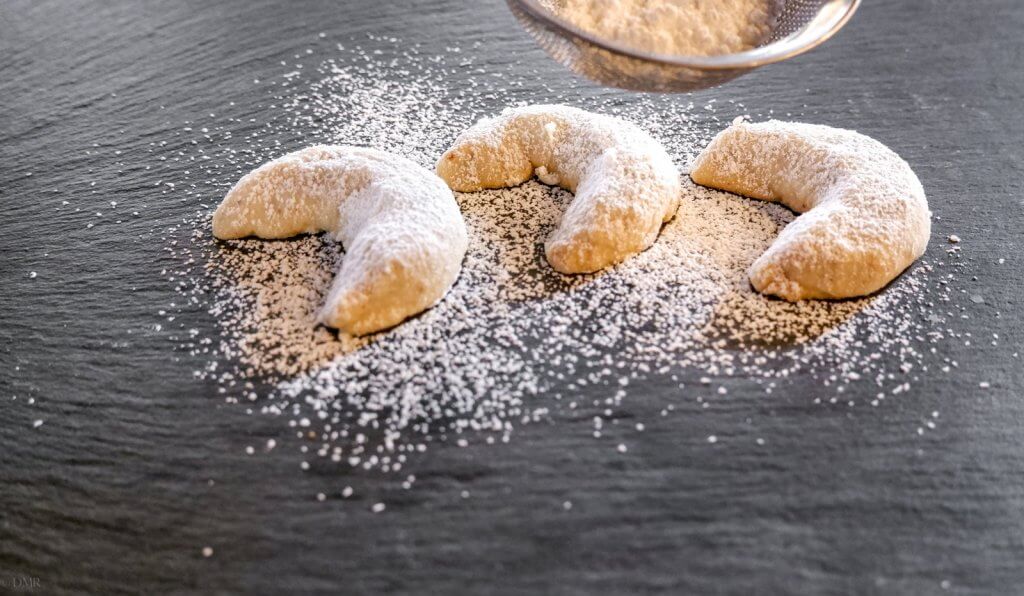 Get More Germany Travel Tips