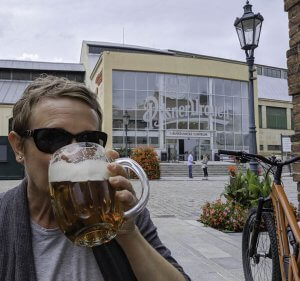 Hi, y'all!

Welcome to DMR Travel. I'm Michelle, and I've owned travel and hospitality businesses for a couple of decades. And while I've had fun in other ventures, traveling is a big part of who I am. My love of travel started with my Grandmother who helped me understand early in life the value of seeing the world, trying new things, and getting out of my comfort zone. Luckily, I found a partner who values travel as much as I do. My husband, James, and I make traveling a priority and organize our lives to make sure we travel often.
We've traveled to Europe (my expertise) many, many times, and to Germany (my favorite!) more times than I can remember, and I love traveling. I love all of it, from hectic international airports to wandering cobblestone streets in a small, quiet village. From tiny, cramped European bathrooms to grand, breathtaking vistas at the top of the Alps. From losing luggage, to gaining new friends. From misunderstandings in a broken foreign language to a sunset cocktail overlooking centuries of history where you don't need words. I love it all.
Traveling well requires some preparation, and I want to share some advice that might help you get more from your travel experience. And above everything, my number one goal is to encourage everyone to travel more.
Am I the right person to help with your travel planning?
Not all travel planners and blogs are useful for every type of traveler. I know that I can't be all things to every traveler, so let me introduce you to my travel style.

My Travel Style
Like many travelers, I'm looking for experiences that help me better understand a destination, and I want the freedom to do as I please as the day unfolds. Discovering unexpected gems that I didn't know about is a joy, and I'm not trying to check off all of the Top 10 lists. Travelers like us want to explore independently, go off the beaten path, and not be bound to a strict schedule. We want to see the tourist highlights (because they're awesome!), but we also want to discover a destination on our own time and without expectations or a daily agenda.
We're willing to spend a little more money on a memorable experience, but we want to save on airfare and hotel costs (why would you spend a ton of money on a hotel room you're barely in?). We've outgrown backpacks and hostels, and need a little luxury in our lives — a private en suite bathroom is a necessity. We know that fine dining and wine and occasional Michelin-star meals are worth the expense to get an extraordinary travel experience. But we prefer seeking out local markets and street vendors to get a better taste of local cuisine.
We want to use our annual vacation for an unforgettable, relaxing trip. We have jobs and responsibilities that give us little time to spend away from home, and many of us only have the typical two-week vacation. We want to make the most of our travel without moving too fast and being overwhelmed. We're the travelers looking for authenticity in our travel. We want to slow down, wander, do some day drinking, learn some history, eat amazing local food, meet some local folks, and get to know a destination. We want more from our trip than an "Insta-worthy" photo. We want a connection to a place.
If this sounds like the type of traveler you are or want to be, then I'm here to help.
A bit more about our travel style:
We don't have kids, so you'll have to find someone else to ask for advice about traveling with children. We wouldn't know the first thing about it.
We're too old for all-night raves and thumping clubs, but quiet (or a bit rowdy) pubs and Biergartens are more our speed. We have a weakness for rooftop bars, and we could spend all day tasting regional wines. Breakfast beer is just fine when we're traveling (or even when we're not).
The typical meal times don't exist when we're traveling because we want to eat everything all day. We're always looking for regional specialties, and I don't think we've ever passed up a cheese shop for a sampler plate.

Read more about
Our Travel Philosophy and Our One Travel Requirement.
As an accredited travel planner, I have certifications across European countries and regions that, along with my years of travel experience, can help you plan your perfect Europe trip. I'm a travel professional first, not a professional blogger, but I hope you find my posts valuable and informative. If there's a topic you'd like for me to cover, reach out, and let me know.

Industry Certifications
IATAN
Certified Travel Associate
Germany Tourism Certification
Rail Europe Specialist
Bavaria Tourism Specialist
Southwest Germany Specialist
Upper Rhine Valley Specialist
Switzerland Travel Expert
Italy Destination Specialist
Ready to go?
Let's find some great airfare
.
Recent Airfare Sales
Austin to London:
$525
Austin to Madrid:
$405
Dallas to Paris:
$427
Dallas to Zürich:
$419
Houston to Amsterdam:
$404
Houston to Venice:
$485
San Antonio to Frankfurt:
$470
San Antonio to Paris:
$414
Normal prices $1000 or more!
Want more travel planning advice and insider tips?
Subscribe Here!
I'm currently accepting a limited number of clients for custom itineraries, contact me for availability.