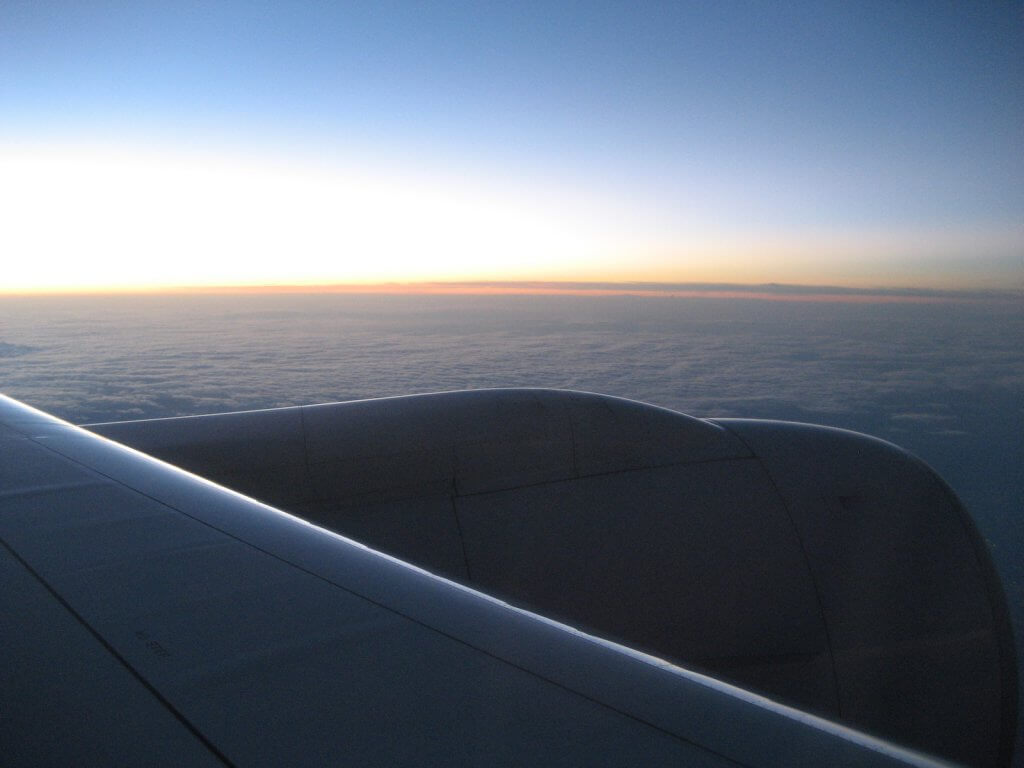 How to find the best prices for airfare is the most common question I get asked. I understand that some folks prefer to do their own travel planning and don't need my professional travel services, so today I'll share with you the best way to find great airfare when making your independent travel plans.
There are ways to use points and airline miles for airfare, and I'll cover some of those ways later on, but this post will focus on purchasing flights. Finding the best airfare starts by avoiding dates when everyone else is traveling. Avoid weekends and going in high season — summer months when school is out and families are traveling, beach destinations during spring break, Christmas holidays, etc. I prefer shoulder season, that wonderful time between high and low seasons when the crowds have gone and the weather is still pleasant. Springtime in Germany and autumn in Provence are beautiful and far less crowded. You might find the lowest airfare in the low season, but it's low season for a reason — because that's usually when the weather is at its worst. Do you really want to spend your precious vacation time in terrible weather? Remember, I want to help you find the best airfare and sometimes that might cost a little extra to have a better experience.
What's the one travel requirement? Be flexible! Unless you need to travel to a specific destination on particular dates, don't lock yourself into where or when you visit. The best advice I can give you is to do the opposite of what most folks do. Instead of deciding where and when to go and then looking for flights, do the opposite and search for flights first.

The Usual Way to Plan Travel
The Better Way to Plan Travel

Decide where and when to go.
Plan the itinerary.
Look for the best airfare.

Look for the best airfare.
Decide where and when to go.
Plan the itinerary.
For Europe, start with finding the lowest fare for the long-haul flights, and remember that you can travel between European cities cheaply and easily with low-cost air carriers or use the rail system or rent a car (for the best rental rates, pick up and return in the same country). Or, take advantage of the low fare and just settle in and get to know the city where you land.
For example, I had Lyon, France on my list of destinations and you might first think of flying into Paris then taking a train or driving to Lyon, and that's certainly an option, but when a fantastic airfare to Geneva, Switzerland came up, I realized that was the perfect way to get us to Lyon with a car rental. Even though Geneva wasn't on my destination list, that route got me where I wanted to go with much lower airfare ($1200 to Paris, but only $500 to Geneva!). Being flexible with your destination airports can gift you with fantastic airfare.
Now that I've convinced you to be flexible with your travel let me show you an excellent way to search for the best airfare.
Here's an example using Google Flights to find the best airfare:
Let's say I have some vacation time I'd like to use, and I want to visit Italy. Other than seeing some historical sites and eating my weight in pasta I don't have any set plans. I know that shoulder season (that wonderful time between low and high season) will be the best time to go, and I think that this fall will be perfect for me. So, I'll head over to
Google Flights
and search for airfare to Rome in September.
I've entered departure airport Austin and arrival airport Rome and my ideal dates in September. With this search, I see that the fare is about $1500 round trip with one stop.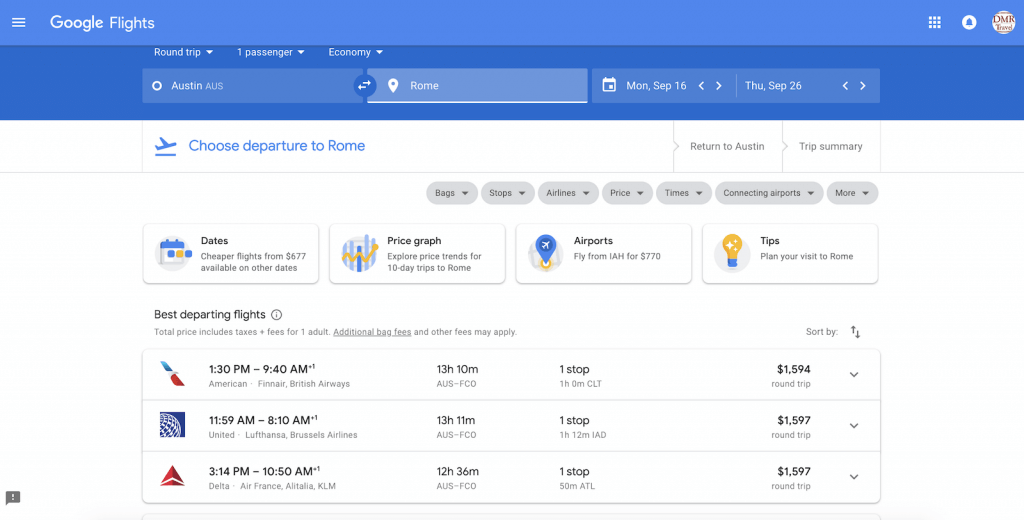 If I click the date box to change the departure and arrival dates, a calendar pops up. I'll use the arrow left or right to see fares available on other dates. Notice the green $538 fares in October? Let's choose those October dates.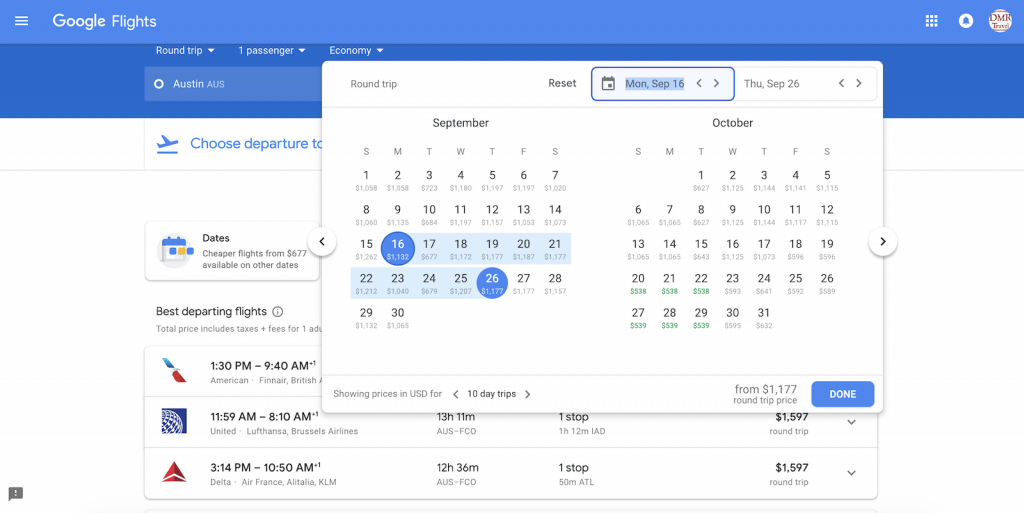 Hello! This airfare in the $500s is much better! I'm saving more than $1000 just by being flexible with my dates. Here I'll choose a departure flight, and I'll pay attention not only to the prices, but also the connection times and the connection airports. I know that in many cases a 1-hour connection isn't enough time (ladies, you know that a bathroom line might take that whole hour). I also know to not connect in Chicago in the winter because there will be delays and cancellations. Trust me, don't make our mistake. We've gambled on a Chicago connection in winter and lost too many times.
Remember, you're looking for *the best* airfare, not necessarily the cheapest. There will be times that paying just slightly more will provide you with far less hassle.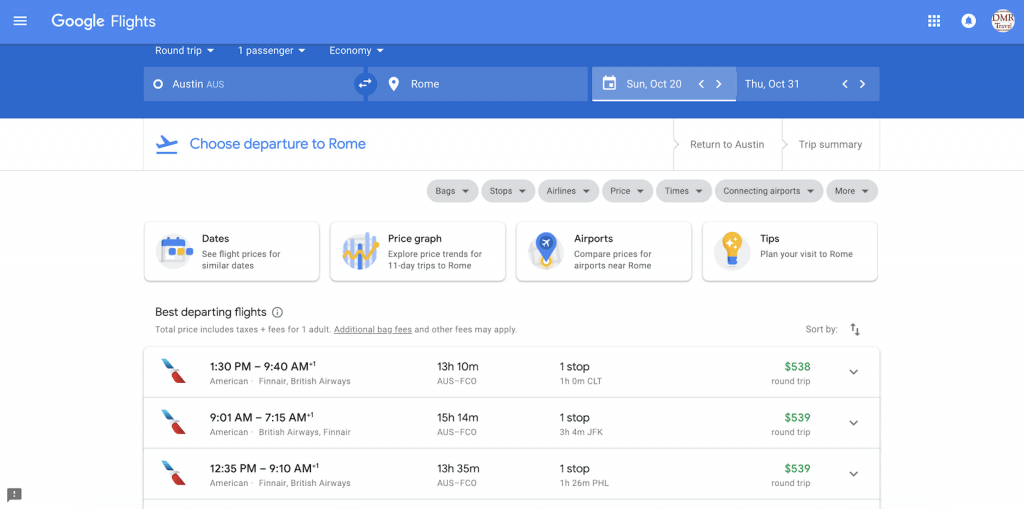 Next screen, I'll choose a return flight. On the return flight, I'll make sure there's plenty of time to get through customs and immigration and back through security. I always plan for several hours.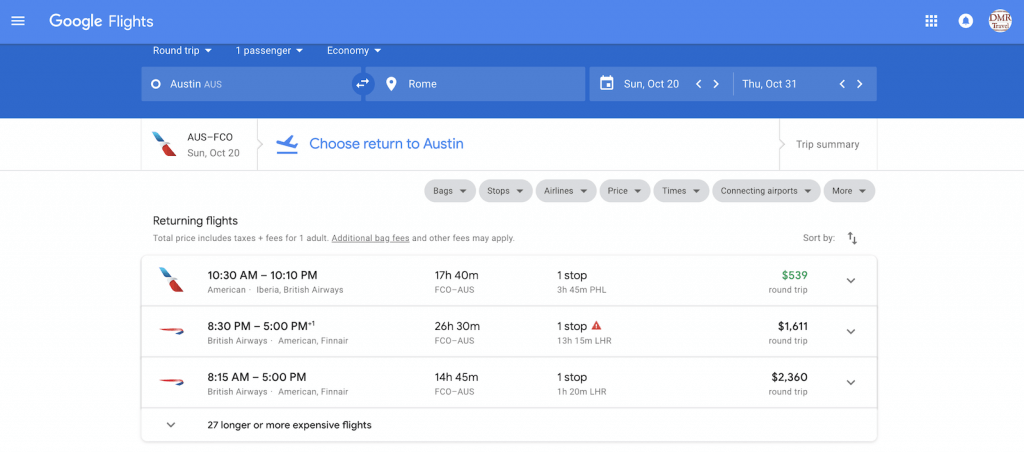 Now that I have my departure and return dates selected, I'm at the final screen where I can head over to the airline's website and purchase the tickets.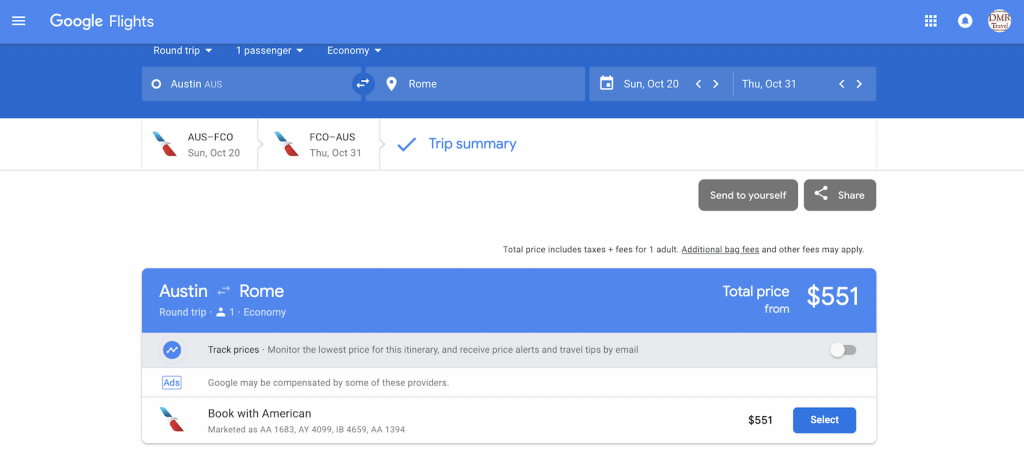 Perfect! I'll book my flights and then look for accommodations and activities. Now I'm excited about going to Rome!


Booking Open-Jaw Flights
What if I decide to see more of Italy rather than just staying in Rome? Well, I could rent a car or travel by train to another city and then return to Rome for the flight home. But what about arriving in one city and departing from another? This is known as an open-jaw flight, and Google Flights can help you search for these, too. Let's say I've decided to add Milan to my itinerary and I'll take a train from Rome to Milan.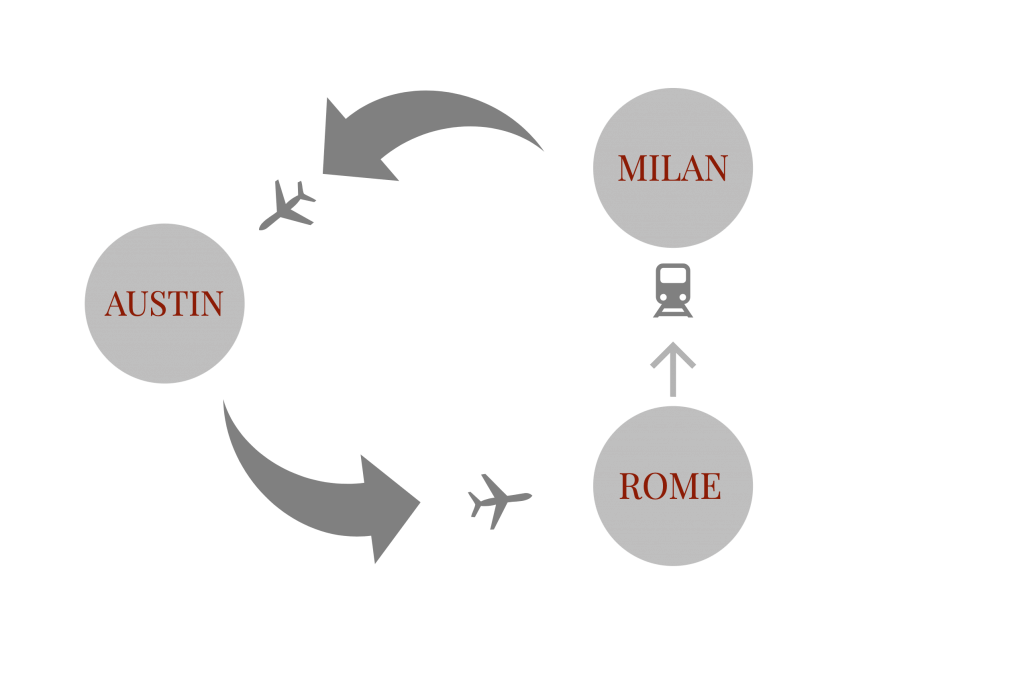 Above the departure airport box, there's a drop-down menu that lets you choose 'Round trip', 'One way', or 'Multi-city'. Choosing 'Multi-city' allows you to enter up to five different flights. For this example, I want to fly into Rome and out of Milan.
First, choose the Austin to Rome flight: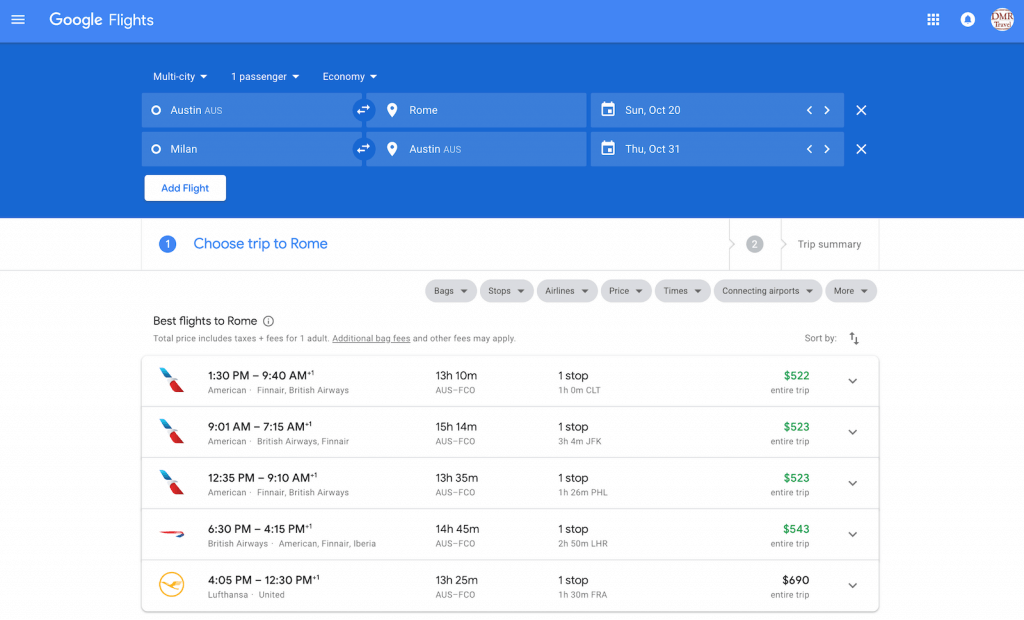 Then choose the Milan to Austin flight: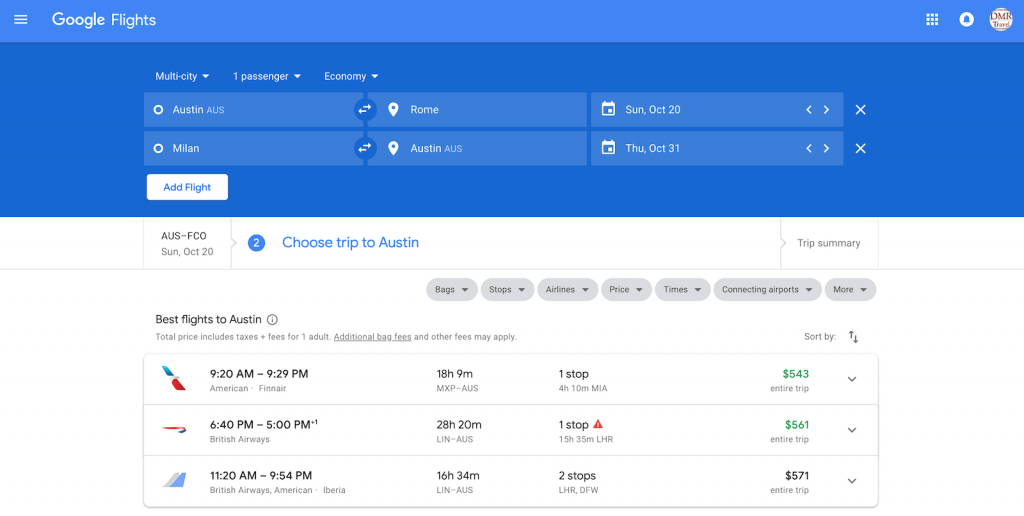 Finally, review the summary and then book with the airline: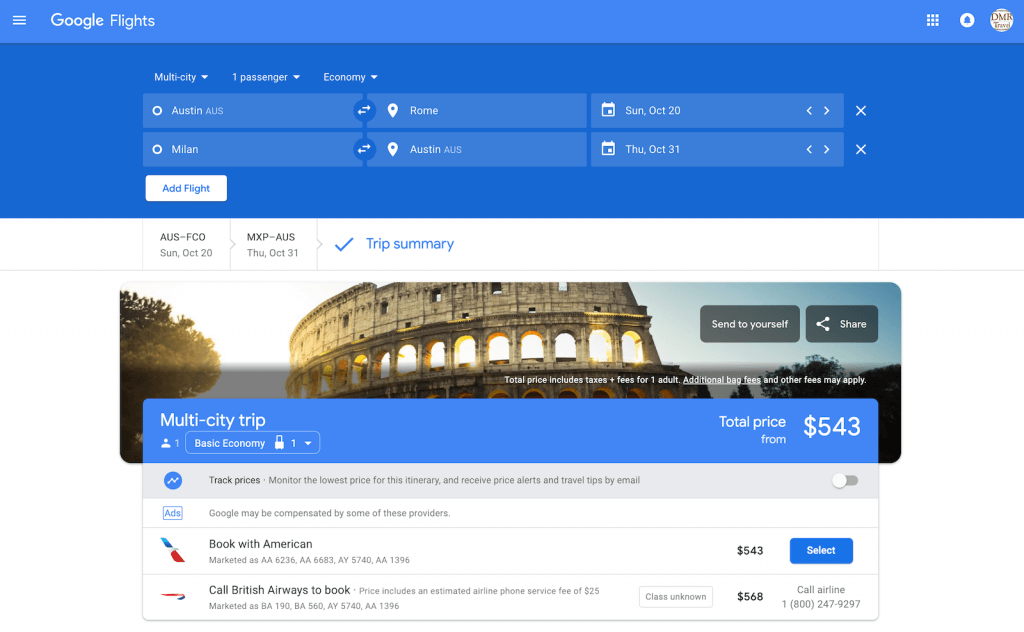 Open-jaw flights can be a great way to see more and save time by not having to return to your original arrival airport for your flight home.
Tips for Google Flights:
▸▸ Sometimes you'll find a low fare, but you won't be able to book it. Either the airfare increases as you go through the Google Flight process, or you try to book it at the airline's website, and it isn't available. You can try Momondo (covered below) or shrug and continue checking other dates/destination combinations. Sure, it's a bummer, but keep looking or be prepared to pay the higher fare if you can't be flexible with dates or destinations.
▸▸ The ultra-low fares are usually Basic Economy which is bare-bones airfare. Be sure you understand the additional fees for checked luggage and seat assignments, but there are ways to help here, too. If you're traveling with a companion, maybe pack lighter and only check one bag instead of two (I know this is a significant challenge for some of us [raises hand]), or perhaps you have a credit card that has a perk of zero or reduced checked luggage fees. If you're an elite member of the airline or alliance you're flying you might have checked luggage benefits. There are far too many scenarios for me to cover (and they often change), but there are some ways around the infuriating checked luggage and seat assignment fees.
▸▸ Google Flights also allows you to filter your search in many different ways. Looking for Business Class on Star Alliance airlines with a maximum of one stop avoiding a connection in Chicago during winter? You can search for that!

Another option is using Momondo for flight searches, and sometimes it's a good idea to use both Google Flights and Momondo to compare. Google Flights works primarily with airlines and Momondo will include Online Travel Agencies (OTAs) in the search results. Like Google Flights, Momondo doesn't sell airfare; it's a search engine that looks across many OTAs and sends you to the OTA website for booking. Their search includes smaller, lesser-known agencies and it's up to you if you want to take a chance on them. While I prefer to book directly with the airlines, you might want to use an OTA if the price is significantly different. Again, I prefer to use Google Flights and the airline websites for booking, but I want you to know about other options.


Yes, it takes time. Yes, it can get complicated. That's where DMR Travel can help. Give me shout, and I'll save you the time and effort of searching for flights.
After you've booked your flight, you can start planning your trip or DMR Travel can help create your custom itinerary.



✵
Let's fly, let's fly away.
« Travel Planning Basics | Michelle's Europe Packing Guide »