Updated June 2021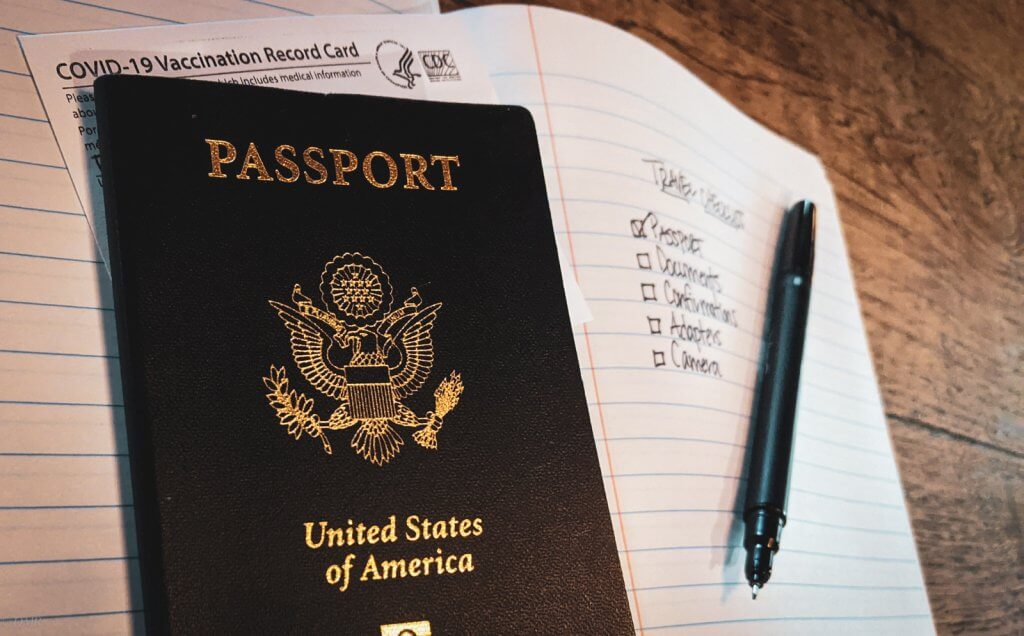 Here's your checklist of
✓ things to do,
✓ things to purchase, and
✓ things to pack
before your Europe trip.
No one wants to feel overwhelmed with a long list of things to do when going on vacation, but there's some pre-travel prep work that you'll need to do before heading out on your travels. Even during normal travel times, there's a list of things to take care of, but travel, and especially international travel, during Covid requires some extra preparation.
Let's get started.

*Note: I'm doing my best to keep things updated, but it's each traveler's responsibility to verify that they have the most current and correct information.

COVID – Travel Restrictions and Requirements:
Be sure to check country-specific information. You can find information through the Re-open EU website.
On that page, click 'Travel Plan' and enter your origin and destination to get each country's information.

I recommend visiting each country's website to get details because information can change quickly.

The Re-open EU site will have links that you can follow.
Some Examples:
– AUSTRIA
– FRANCE
– GERMANY
– ITALY
– SPAIN

Carry your original vaccine card, but use a protective sleeve (don't laminate it because you'll need it for any booster shots), and be sure to have several copies on you and some left at home.
Also, have digital copies in pdf form.

Purchase the correct At-Home test kit for testing that's required when returning to the US.
Check with your airline for accepted tests.
– American
– Delta
– United

Masks. Check with your airline for approved masks and take back-ups. Although you can likely purchase more at your destination, you should have plenty with you. You'll need masks to be comfortable for all-day wear and easy to wash or use disposable one-time-use masks.
Hand sanitizer. We've always carried hand sanitizer with us, but during Covid travel you'll need to make sure you have plenty for very frequent use. Keep in mind the TSA liquid rules for carry-ons.

Traveling to Italy? You need to complete the EU Passenger Locator Form.
After you register for an account and log in you need to provide your flight information including:
Airline, Flight #, Seat #, Boarding Country, Boarding Airport, Date / Time of Departure, Date / Time of Arrival, Arrival Airport, and the same information for any connections.

Traveling to Spain? You need to complete the Health Control Form. (click the 'Access the form' button a the top of the page)

Airline Informtion:

Travel with American Airlines and One World partners: download the VeriFly app.
Travel with Delta and Virgin Atlantic: follow the instructions provided after booking.
Travel with United: follow the instructions provided after booking.
Passport
Check your passport before booking your trip.
Make sure it isn't expired and has a least 6 months validity left from the date of your return. (ex. Returning to the US June 1st, the passport must be valid until Dec. 1st) As of 2021, passport renewals and applications are taking a very long time process, so plan ahead.

You need to have enough blank pages in your passport to accommodate entry and exit immigration stamps for each country of travel. Check your passport, if you don't have enough, you'll need to get a new one.

Before you leave, scan or take photos of your passport and save them somewhere safe but easy to find in case you lose your passport.

Visas: Do you need one?
US citizens to the EU do not need a visa for stays up to 90 days.
The European Travel Information and Authorization System (ETIAS) is postponed until 2022.
You can get more information at the US State Department Traveler's Checklist.
Money:
Have a small wallet to keep a small amount of money (20 to 50 euros) to use for daily purchases. Keep your passport, credit cards, larger amounts of cash, etc. in your main wallet that you don't have to use in public settings. If you lose your small wallet, you won't lose much and your important things are kept safely hidden away.

Credit Cards:

You'll need a Visa or Mastercard with a chip.
Unfortunately, we still use signatures for our credit cards rather than PINs like they do in Europe, but most places will still accept our signature cards. (there are exceptions, so be sure to keep cash handy.)
Discover and AMEX cards are not widely accepted and I don't recommend them; use Visa or Mastercard.
Take a backup card in case your main card is lost.
You'll use cash for many purchases, so you'll need to have a debit card. Many small shops and restaurants won't accept credit cards. Look for credit card logos before ordering and make sure you have cash available.
Contact your credit card companies and banks to let them know that you'll be traveling.
Copy / scan / photograph the front and back of your cards and keep the copies where you can easily find them.

Cash

Get cash at ATMs once you're there.
For safety, use ATMs at banking locations. If the bank is closed and the ATM is inside, sometimes there's a way to unlock the door and enter by scanning your ATM card at the door.
Exchanging currency can be difficult, but banks are better than Currency Exchange locations.
Traveler's Checks aren't accepted, so don't bother with them. Just use your credit card and ATM card.
Driving:
Planning to rent a car? You might need a few things.
International Driving Permit (IDP). Some countries require it (Italy is one) and some countries don't. But I always recommend you get an IDP if there's even a chance you'll be driving. It's good for a year, and it's peace of mind. It gives you the flexibility to travel to other countries without worrying if it's required or not.
You can get an IDP with AAA. If you don't have a local AAA office, plan ahead to complete this task by mail.

Do you need to purchase the collision damage waiver with the rental agency? You should have it, yes, but this might be something included with your credit card benefits. Check your credit card information, and if you think it will work for you, then be sure to use that card when renting your car and you can decline the CDW with the rental agency.
You can also check to see if you can add it to your travel insurance. More info at :
DMR Travel | Is Travel Insurance Worth It?
Electronics:
Phones

To use your phone, it needs to be an unlocked GSM phone.
If it's an unlocked phone, purchase a European SIM card before you leave. You can pop it in when you land, and you'll have a working phone as soon as you arrive.
We've personally used the Orange Holiday SIM many times and have never had any issues.

Outlets

Find the right plug adapter for the counties you're visiting.
DMR Travel | European Plug Adapters
A power strip and 3-way plug can come in handy when there are too few outlets in your hotel room.
Packing:
Pick the right luggage.
Small and lightweight are the most important. You'll have to lift it up steps and above your head on trains. Sounds easy, but once it's packed full, luggage can get very heavy.
2-wheels? Spinner wheels? No wheels? That's a personal preference. I like my soft-sided spinner, James prefers his 2-wheeled bag. The important thing is that they are 20" to 22" bags. Nothing bigger.
Liquids – follow TSA rules and make sure they haven't changed recently.
Print (yes, paper copies in case technology fails you) travel documents and pack them in your carry-on bag, not your checked luggage.
Pack important medication in your carry-on bag. It's recommended that you pack prescription medication in its original pharmacy packaging, and make sure you have plenty for your entire trip.
Have bank and credit card phone numbers and account numbers easy to access in case you lose your cards.
The right shoes = comfort! Don't take brand new shoes. Be sure you break in your shoes before you travel. Wear them often and make sure they're comfortable. And even with the most comfortable shoes, you might still get blisters or uncomfortable spots. Take along moleskin.
You don't need to take up space in your luggage with an umbrella, buy one where you are if you need it.
COVID – Restrictions & Requirements
☐ Be aware of requirements for each European country you're visiting. Get information at the Re-open EU website: https://reopen.europa.eu/en
☐ Vaccine card and copies
☐ Approved Covid test before departure
☐ Covid test kit approved by CDC for US return. Check your airline for testing requirements.
☐ Masks
☐ Hand sanitizer
☐ Country-specific forms
☐ Download any apps required by your airline
☐ Submit required documentation to your airline
Passport
☐ Make sure your passport is valid for 6 months past your return to the US
☐ Make sure your passport has enough blank pages
☐ Copy / Scan / Photos of passport
☐ European Travel Information after 2022
Driving
☐ International Driving Permit
☐ Collision Damage Waiver for rental car coverage either through credit card benefits or travel insurance
Money
☐ Small wallet
☐ Main Visa or Mastercard
☐ Debit card
☐ Backup card
☐ Contact credit card company and bank and give travel notice
☐ Copies / scans / photos of credit and debit cards with numbers & contact info
Carry-on
☐ Know current TSA liquid rules
☐ Quart-sized bag for carry-on liquids
☐ Prescription medication in original pharmacy containers
☐ Printed travel documents – flight, hotel, car rental, tour confirmations
Electronics
☐ European SIM card if you have an unlocked phone
☐ Plug adapters
☐ Power strip & 3-way outlet
☐ Phone and chargers
☐ Laptop / tablet and chargers
☐ Headphones
☐ Camera, charger, accessories
Find more tips at:
« Italian Aperol Spritz Recipe | Tips for Europe Travel During Covid »