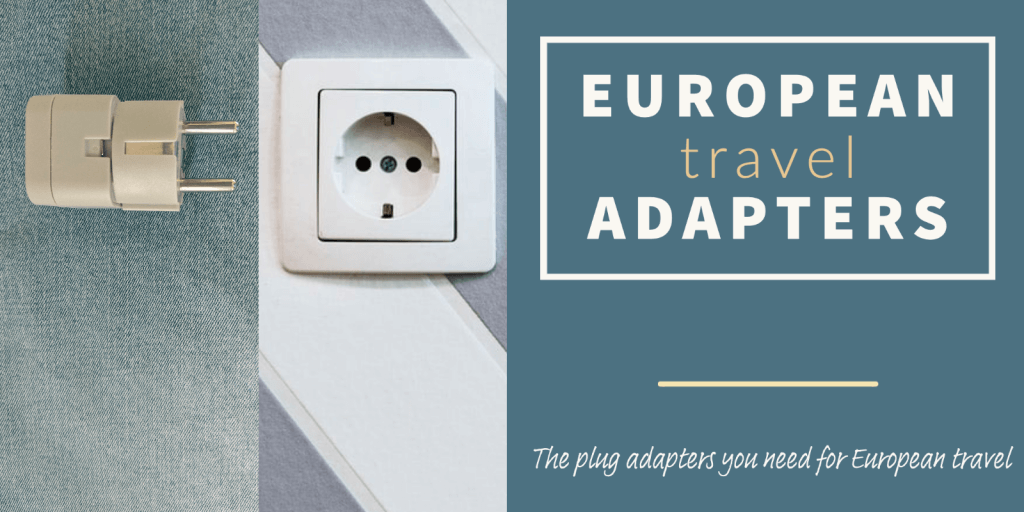 Travel Plug Adapters For Your Europe Trip

Don't forget that you'll need plug adapters for the country (or countries) you're visiting. I don't recommend an all-in-one adapter because they get too bulky and cumbersome. Also, given the size of the universal adapters, they don't always fit into the outlet or are too heavy and fall out. So, instead, we travel with the adapters we need for the countries we're visiting. I always pack a couple of extra adapters because I never know when I'll forget and leave them in the hotel room outlet. (Oops…learn from my mistakes.)
These are the plug adapters that you'll need when traveling to Europe from the US.
Product links open Amazon in new tab with affiliate codes.

Type L
Type J
Like most folks, you probably have phones and tablets and computers and other electronics (particularly those of us that have to work while traveling), and hotel rooms are notorious for having too few outlets, so we always travel with a power strip and a 3-way outlet to charge our devices.

The adapter for most of Europe includes the following countries:

Albania, Andorra, Austria, Belarus, Belgium, Bosnia & Herzegovina, Bulgaria, Croatia, Czech Republic, Denmark, Estonia, Finland, France, Germany, Greece, Greenland, Hungary, Iceland, Latvia, Lithuania, Luxembourg, Moldova, Monaco, Montenegro, Netherlands, Norway, Poland, Portugal, Romania, Russia, Serbia, Slovakia, Slovenia, Spain, Sweden, Turkey, Ukraine

*Note for Italy:
You may run across the 2-prong rather than the 3-prong outlet in some older buildings in Italy, but your 2-prong Type E / F adapter that works in most of Europe won't fit because the prongs are too thick. So, I suggest carrying these
Type C 2-prong adapters
that will work in 2 or 3-prong outlets in Italy.
✵
Let there be light … and tech.
Be sure to check out more packing tips at
Sign up for the free email newsletter to get more travel tips.

« Madrid Trip Report – A Week of Tapas & Wine | Is Travel Insurance Worth It? »