When you have a bunch of leftover apples (because sometimes I make a mistake and order 3 pounds instead of 3 apples when ordering online), you can make Sharlotka (Russian apple cake). It's an easy recipe, and you probably already have everything you need on hand in your pantry. ⁠

*Special Equipment:
(links to Amazon)
Springform Pan

or mini springform pans
Ingredients:
3 – 4 apples (about 1.5 pounds)
3 large eggs, at room temperature
1 cup granulated sugar
1 teaspoon vanilla extract
1/2 teaspoon kosher salt
1/2 teaspoon ground cinnamon
1/4 teaspoon allspice
1 cup (125 grams) all-purpose flour
Powdered sugar, for dusting
optional: 1/4 – 1/2 cup toasted crushed walnuts
Directions
Preheat oven to 350 and grease the bottom and sides of an 8-inch or 9-inch springform pan. You can also line the bottom with a circle of parchment for extra insurance from sticking.
(I used our mini springform pans to make four small individual cakes.)
Peel, core, quarter, and slice the apples thinly (1/4 inch slices). If you decide to use the mini springform pans, you'll want to cut the apples into smaller pieces so that they fit well.
You can toss the apples with a little squeeze of lemon to prevent browning.
In a medium bowl, mix the flour, cinnamon, allspice, and salt.
In a stand mixer with the whisk attachment, beat the sugar, eggs, and vanilla on medium-high until the mixture becomes pale yellow and ribbons form when the whisk is lifted from the bowl. This takes about 8 – 10 minutes.
Remove bowl from the mixer. With a fine-mesh sieve, sift 1/2 of the flour mixture into the egg mixture and gently fold to combine. Then repeat with the remaining flour mixture just until no streaks are visible.
Fold in the toasted and crushed walnuts if using.
Place 1/2 of the sliced apples in an even layer in the bottom of the springform pan and pour 1/2 of the batter over them. Repeat with the remaining apples and batter. Tap the pan on the counter to distribute the batter and release any air bubbles.
Bake for 50 minutes to 1 hour. Test with a toothpick in the center, and if it comes out clean with no batter, it's ready.
Let the cake rest for 10 – 15 minutes. Run a sharp knife between the edge of the pan and the cake, and then carefully remove it from the springform pan.
Place the Sharlotka on a service platter and dust with powdered sugar.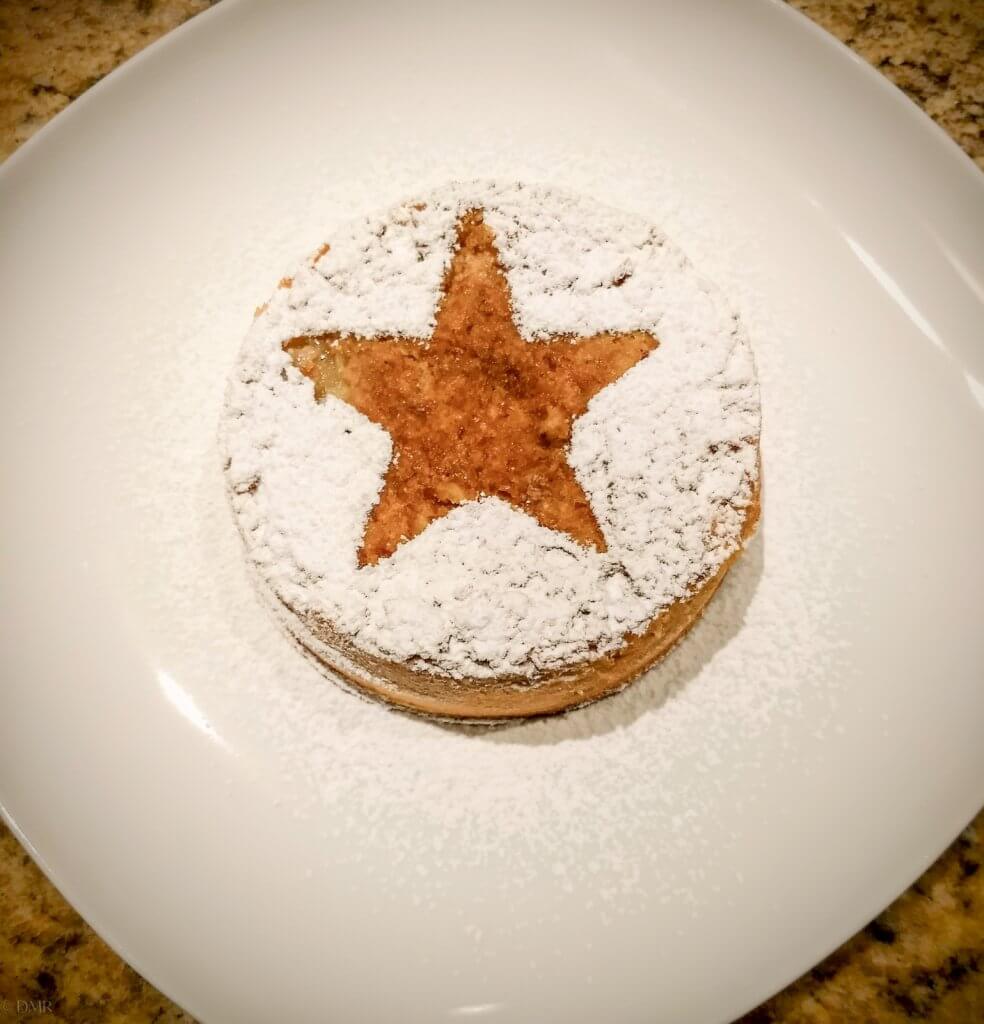 Need more sweets?