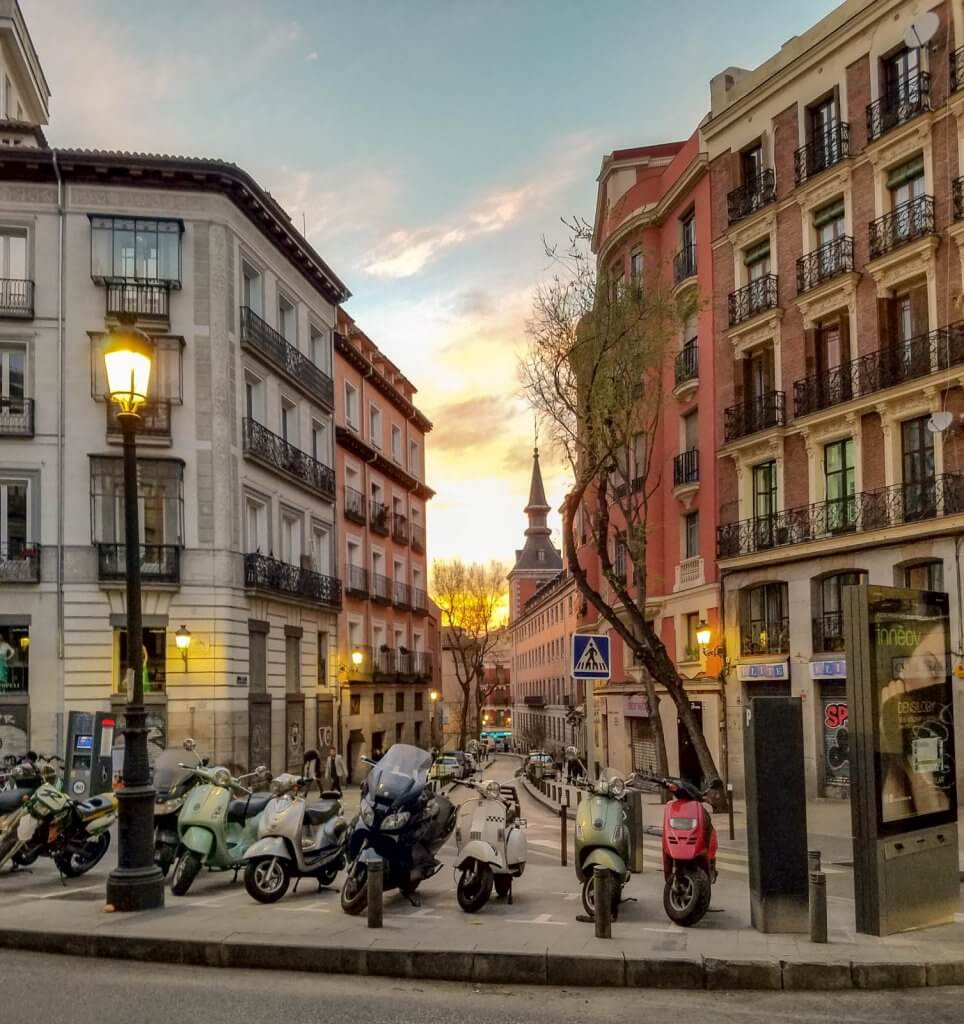 I love unexpected travel!
I was doing my usual airfare sale research and I found a fare to Madrid from Austin for $405 round trip! Yes, $405 with Delta from Austin to Madrid with only one quick stop in Atlanta. Unbelievable! The fare sale happened to line up with J's birthday, so it would be the perfect way to celebrate.
Hola, Madrid!
Check out some of our favorite discoveries in this magnificent Spanish city, and add Madrid to your travel list.
MADRID FOOD & DRINK
Churros and Chocolate
Our flight arrived stupid early in the morning, and we had to wait for our room to be ready, so we stored our luggage at our hotel and went straight to Chocolatería San Ginés just a short walk away. Most of Madrid doesn't wake up until much later in the morning (because they're up much later in the evening. Seriously, most restaurants won't open until after 8 pm.), but San Ginés is open 24 hours (Midnight chocolate? Yes, please!), and we needed some café con leche and churros and chocolate to tackle the jet lag and set us right.
Oh, my heavenly chocolate! Why aren't these delicious treats more of a thing at home? You can find other churros and chocolate in Madrid, but San Ginés is the best. Our early morning taste of Madrid got us excited for the food adventure the rest of the week would have in store.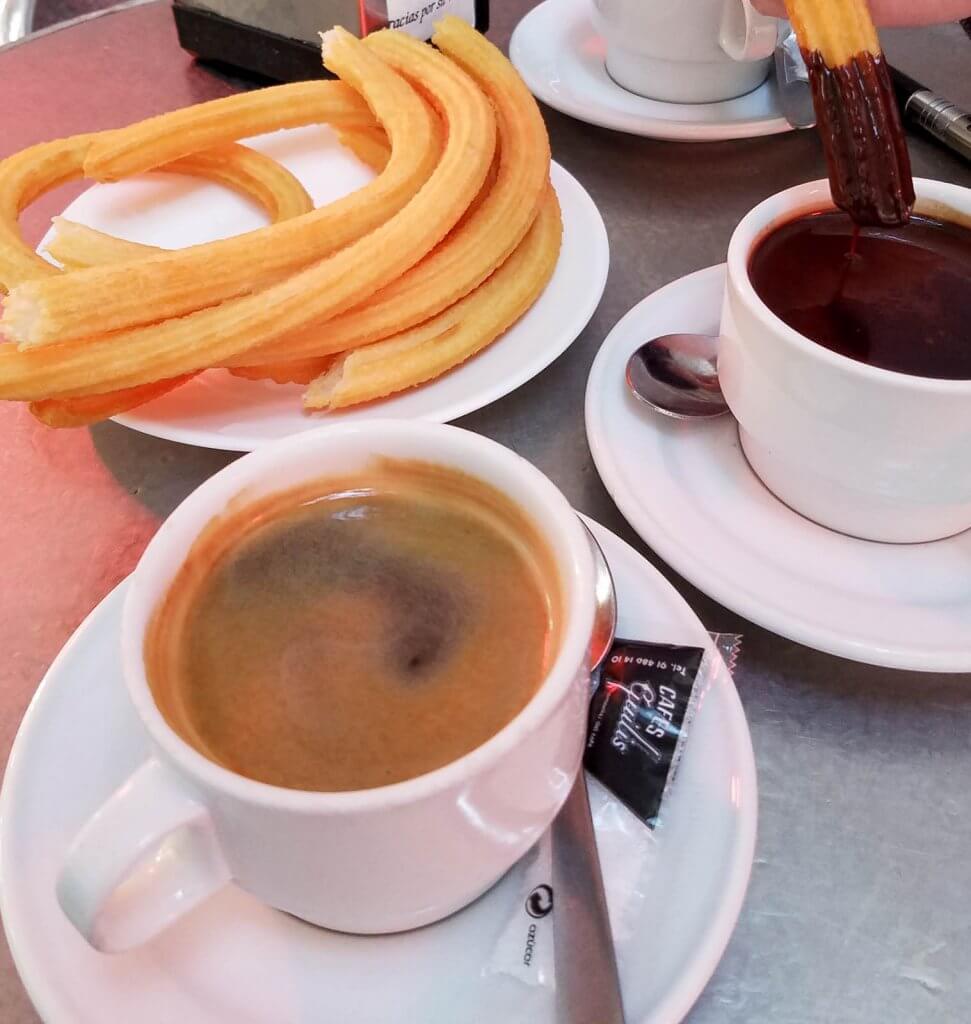 Markets
You'll find plenty of shiny new food markets in Madrid – upscale Mercado de San Miguel, for example, has impressive architecture and plenty of gourmet treats, and Mercado Antón Martin has a relaxed, laid back rooftop bar.
But the older Mercado de la Cebada in the La Latina area is much more in our comfort zone. This 150-year-old market is a real locals market full of produce and cheese and meats and more. In a corner stall, we found Maracuya, a wine shop that also offers tastings, so we stopped. Daniel Roman, the proprietor, became our private sommelier while we enjoyed conversation and drinking and learning more about Spanish wines. He provided a sampling of tapas from the cheese stall for us to snack on, and we wound up spending all afternoon enjoying our wine tasting at this hidden gem. We were blown away with a white Rioja that is now a staple in our wine fridge. Thank you, Daniel, for such a fantastic experience.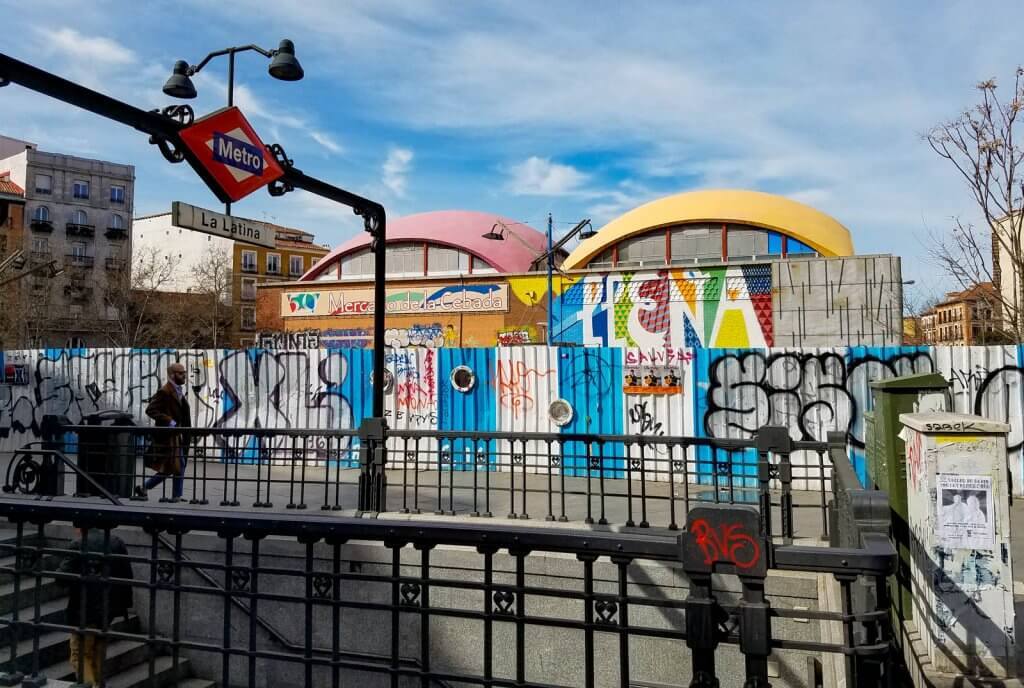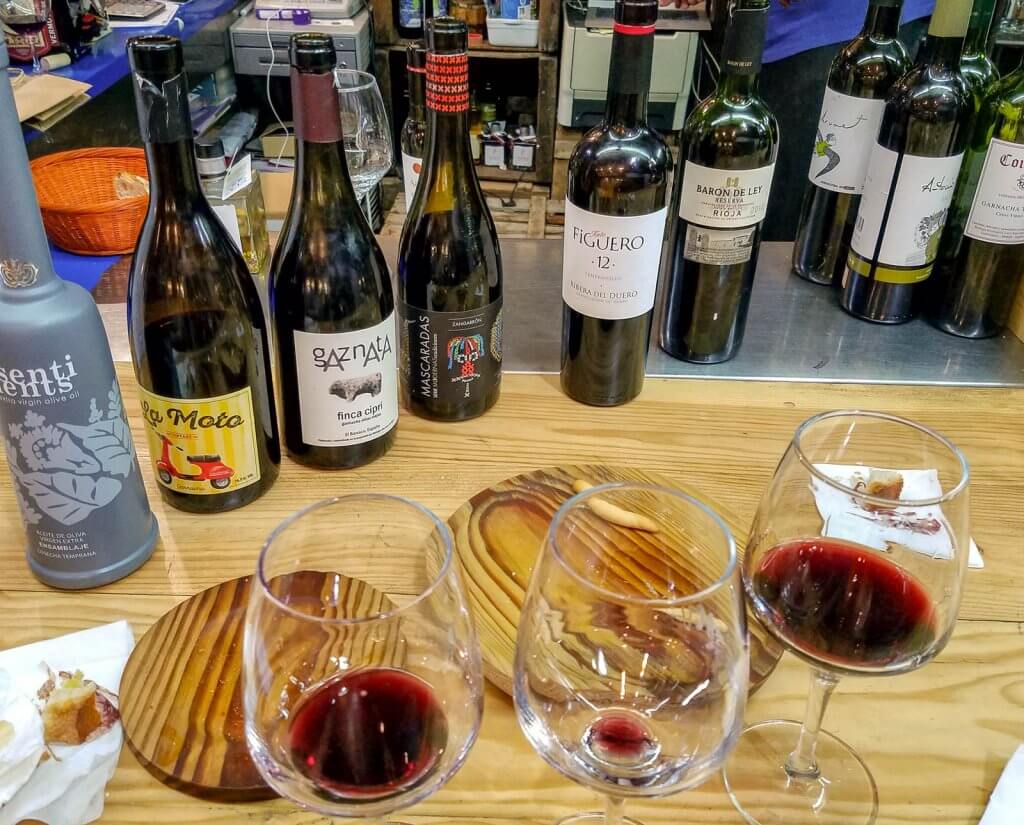 Dining
For J's birthday, I made reservations for us at Bibo Madrid, a restaurant of Michelin star chef Dani García. We had heard that they invested a ton of money on the interior design and we were interested in seeing it for ourselves. Wow! It's stunning! They created a space that feels opulent and quirky and casual at the same time. We ordered far more food than we should have (like we usually do), but every dish was perfect, and the service was outstanding — a couple of highlights: Gazpacho de Cerezas (Cherry Gazpacho) and Lubina Frita (Fried Sea Bass).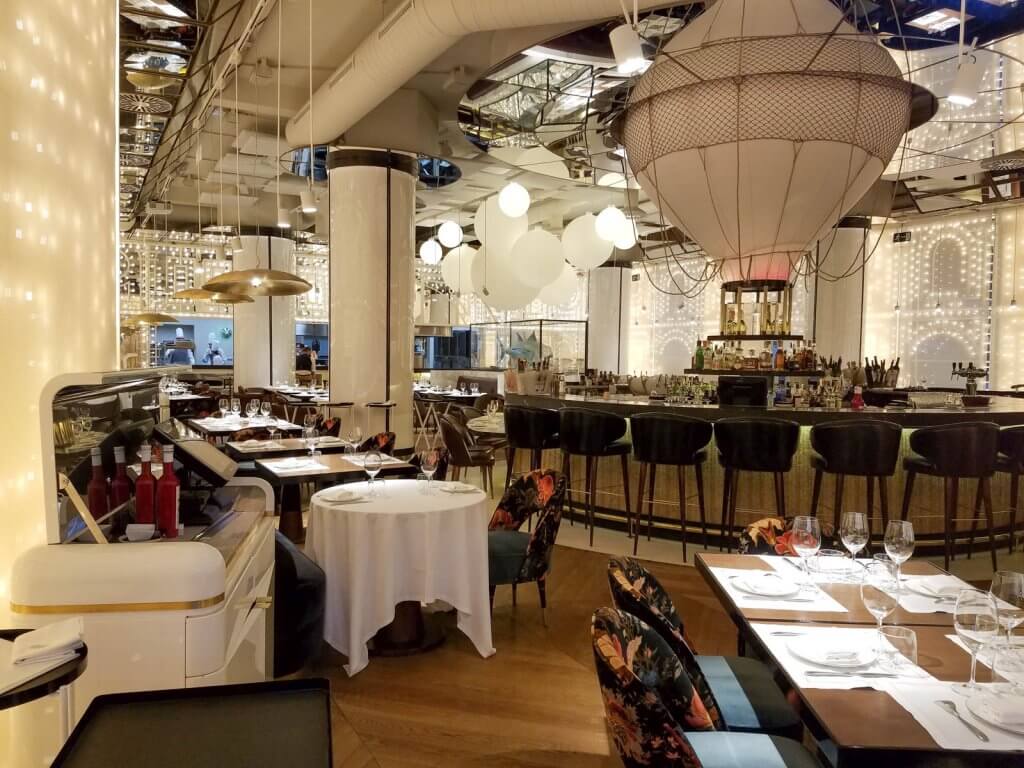 One evening, we managed to get into Botín restaurant without a reservation (that was just pure dumb luck and I recommend you make a reservation). This restaurant dates back to 1725 and holds the record as the oldest continuously operating restaurant in the world. It was a favorite of Hemingway, and the artist Goya worked there as a waiter. You probably won't need a menu because if you're at Botín, you should be getting the roast suckling pig that's still traditionally prepared in the 300-year-old wood oven. Oh, succulent pork! You won't regret planning ahead for this dinner.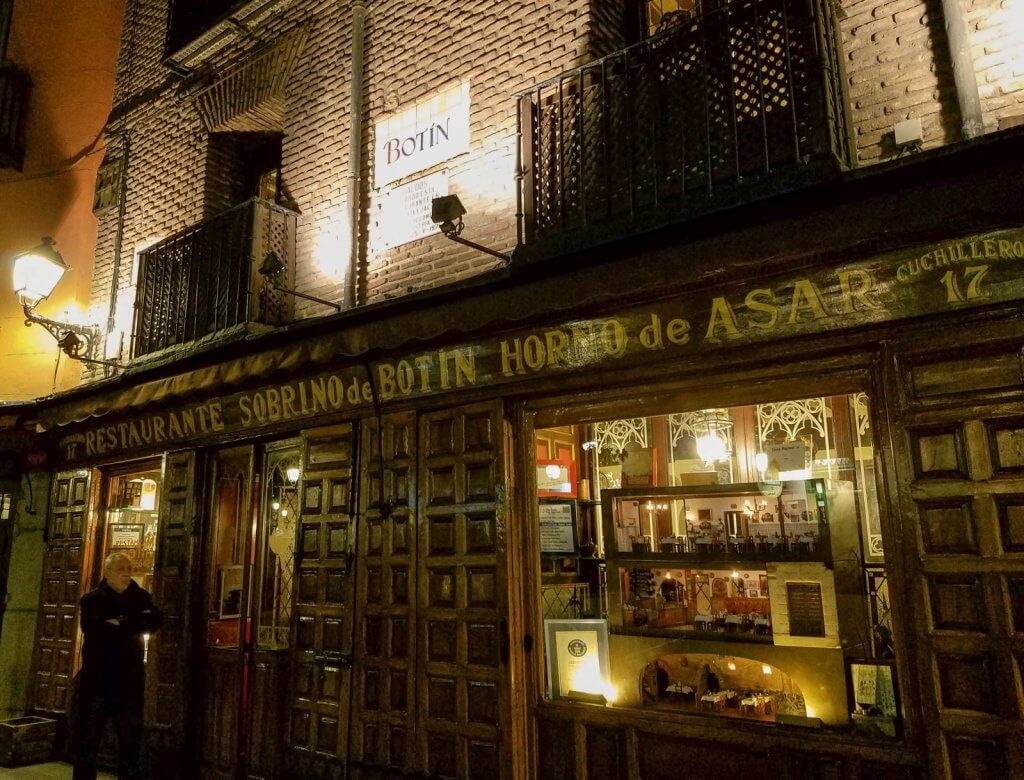 The great thing about Madrid is strolling the city stopping for tapas and wine and then moving on to the next place that catches your attention for more wine and tapas. Cava Baja street has plenty of choices for your evening so that you can hop from bar to restaurant to bar and try several different small bites. One standout was El Tempranillo, with an extensive wine selection stacked to the ceiling (Spanish wines only!) and one of the most interesting tapas menus we found.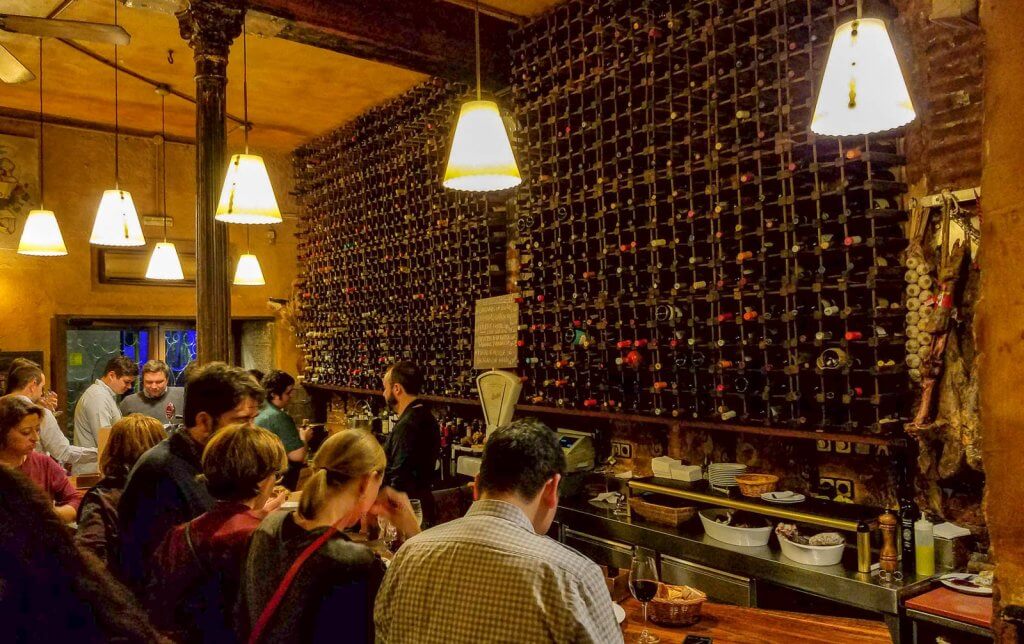 One afternoon, we stumbled across Platea, an old 3-story theater renovated into markets, restaurants, tapas bars, and entertainment space in the Salamanca district. It's huge! With more than 64,0000 square feet and a combined six Michelin stars represented in the numerous options, it's a gastronomic wonderland. I can't begin to describe the scene that made our jaws drop; I can only encourage you foodies to make Platea one of your stops when you're in Madrid. We could have spent days in this one place, and I'm not sure we could have tried all of the food options. Next time, I'm taking the stretchy pants, and I'll work my way through ALL of the food.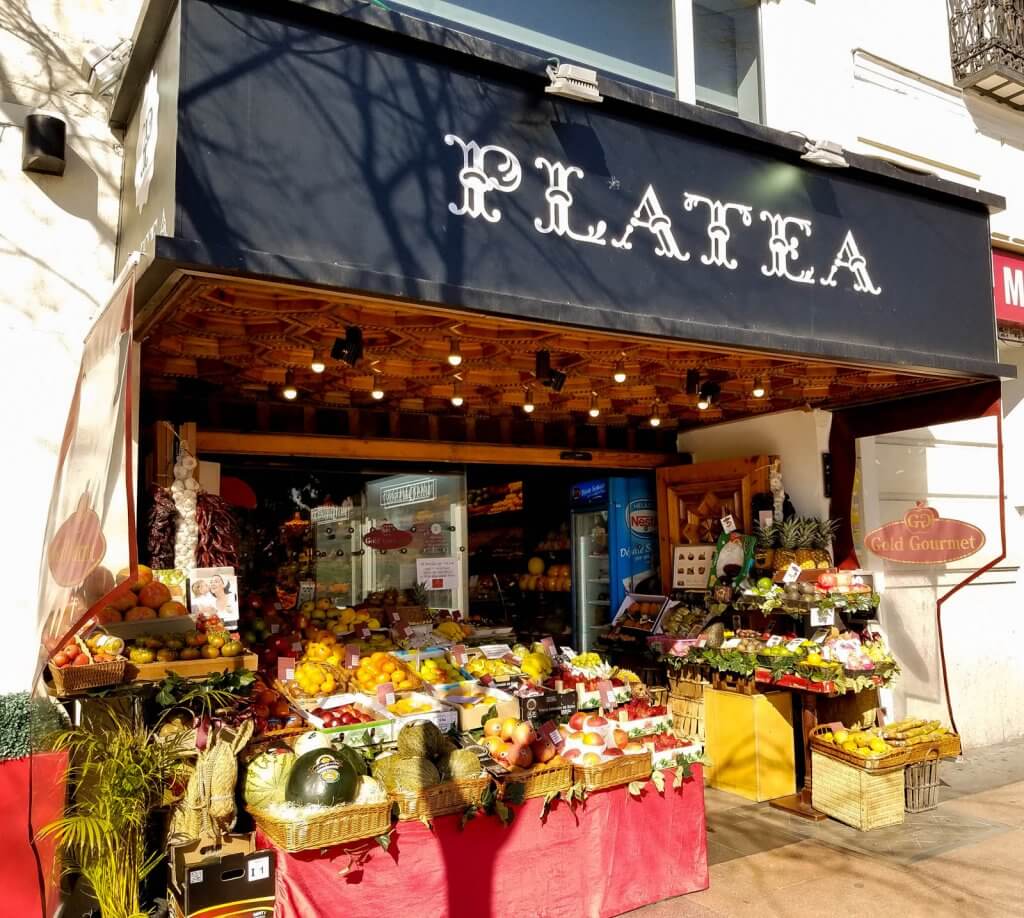 Drinking
Most bars only have a beer or two on tap, and Mahou is the beer you'll find most often. This lack of choice is a bit of a head-scratcher for those of us that come from an area filled with craft brews and far more options, but what works, works, and the limited beer options work in Madrid. Order a "Caña" which is a small glass of beer or a "Doble", which is technically a double caña but can vary in size from place to place. You're in Spain, though, where wine is king, so get to know more about Spanish wines and try as many as you can while you're there.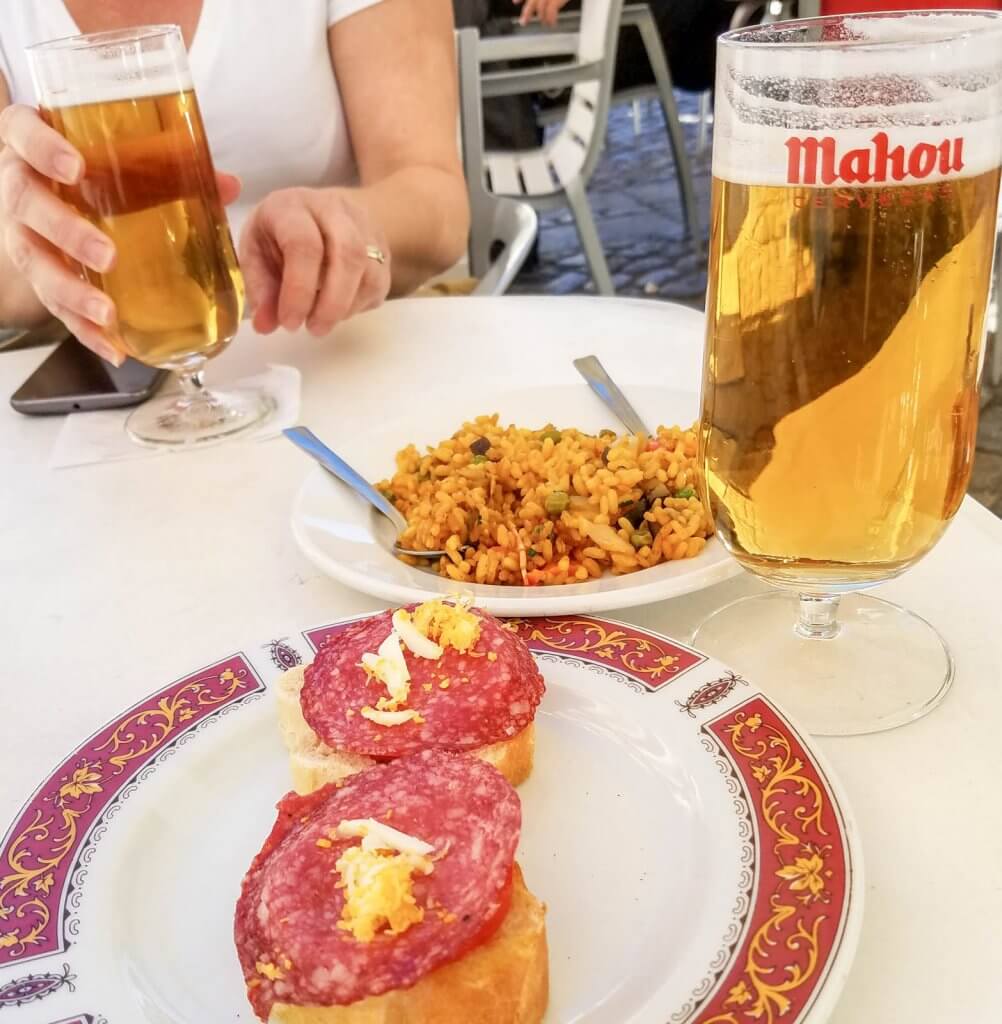 I'm a sucker for a rooftop bar. There's something about being able to see the city from above and getting away from the hustle and bustle of the street life while having a drink that makes me very happy. And Madrid has some great rooftop bars.
One surprising rooftop bar is right in the heart of Madrid in a department store. Yep, you read that right – department store. Go to El Corte Inglés shopping center near Calle Gran Via (there are several Corte Inglés, but only one with the terrace) and make your way up to the Gourmet Experience on the 9th floor where you can enjoy the view from the rooftop terrace year-round. There are plenty of great snacks, wine, and beer to keep you there for hours. Get there early, grab a seat, and watch the sunset.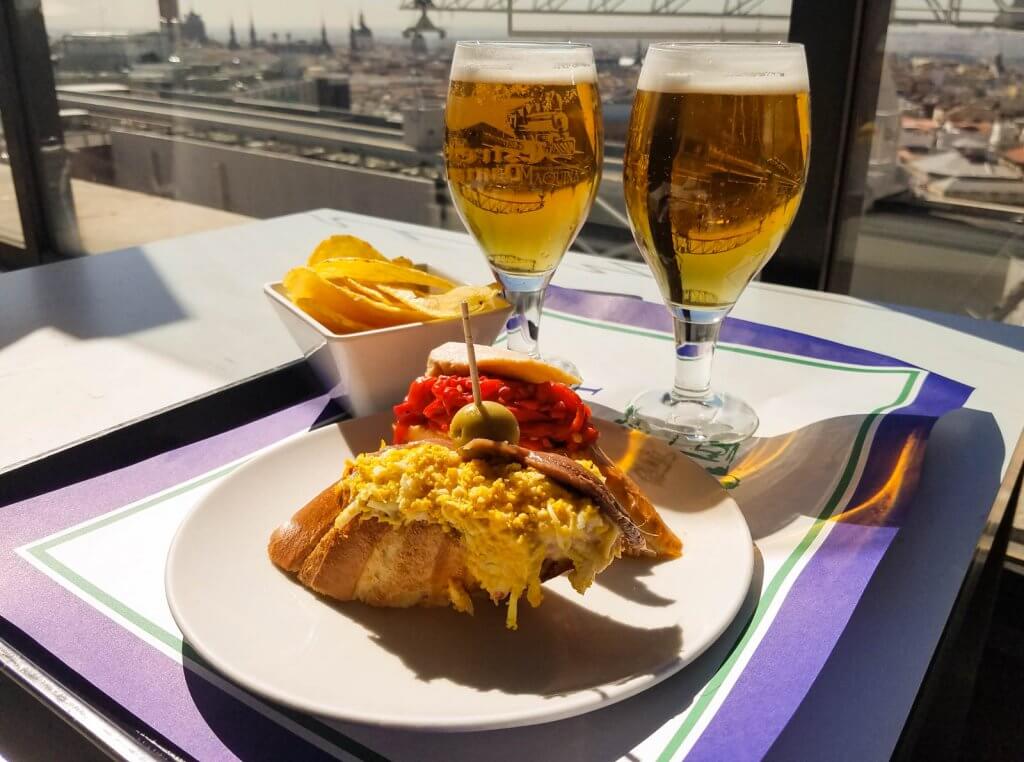 MADRID SIGHTSEEING

The Prado Museum is one of the best museums in the world, and it is so full of beautiful art and sculpture that we needed a full day to explore it all. If you don't have that much time, you can map out your visit before you arrive so that you're sure to see the highlights and the artwork you're most interested in viewing.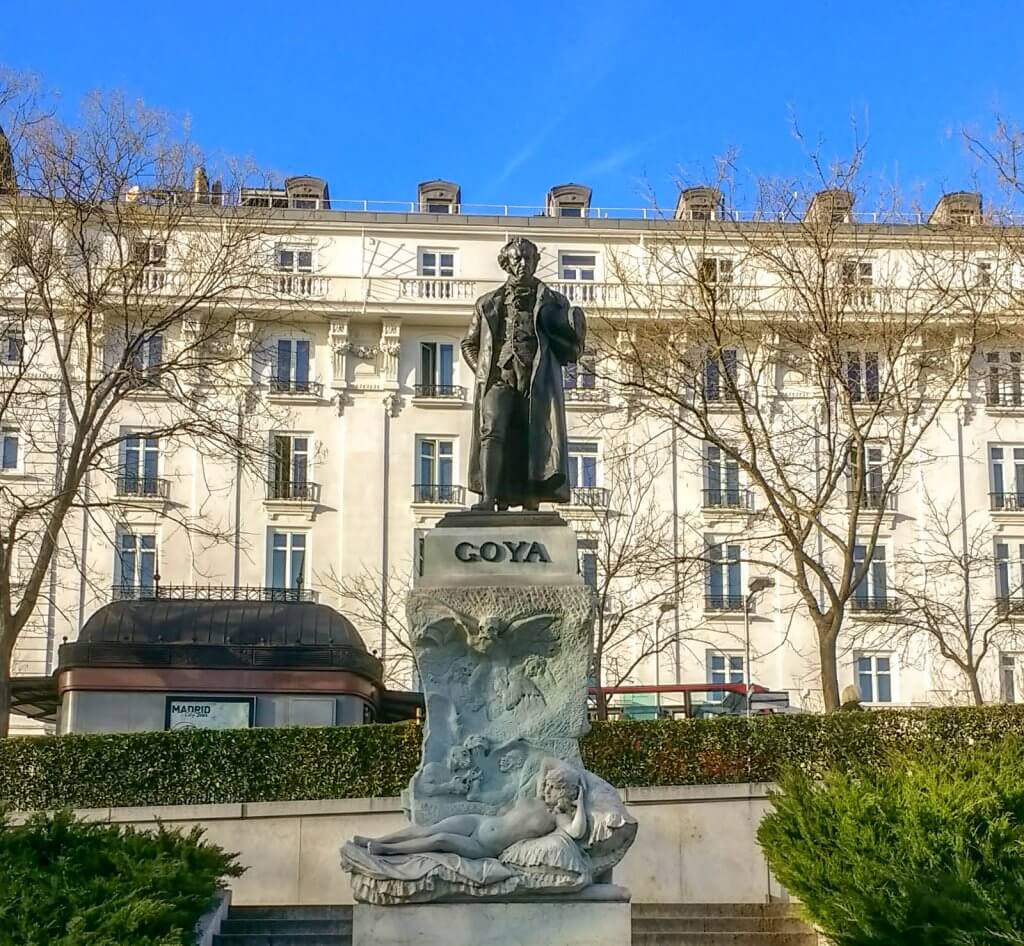 The Royal Palace is breathtaking! It's one of the largest palaces in the world (1,450,000 sq ft with 3,418 rooms) and the official residence of the Spanish Royal Family. James and I have visited many palaces in our travels, and this one is exceptional. You'll need several hours for the tour, but this is one sight to add to your itinerary and not miss. The porcelain room and the Stradivarius collection alone were worth the tour.

Travel Tip: We arrived at the palace around 11 am, walked up, bought tickets, and started the tour with no line. By the time we finished and walked out, the line was a mile long. So, the lesson is to *go early* to avoid the lines or purchase tickets in advance to get a head start.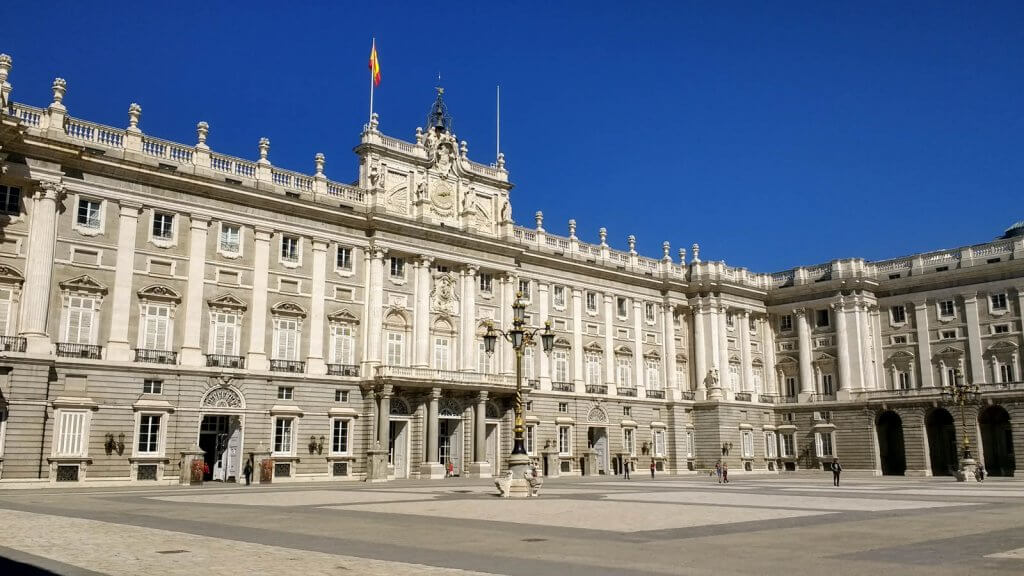 Sometimes a busy travel schedule in a new bustling city can be a little overwhelming, and we found that El Retiro Park in the heart of Madrid was the perfect quiet spot we needed where we could enjoy the sounds of chirping birds rather than traffic. There's a lakeside bar where you can kick back and enjoy a drink and a snack, or before you go, pick up some Jamón Ibérico (or go for the Serrano ham which is also good and less pricey) and other goodies at one of the markets. Armed with snacks and wine, wander into the park and find a shady spot to relax for a picnic.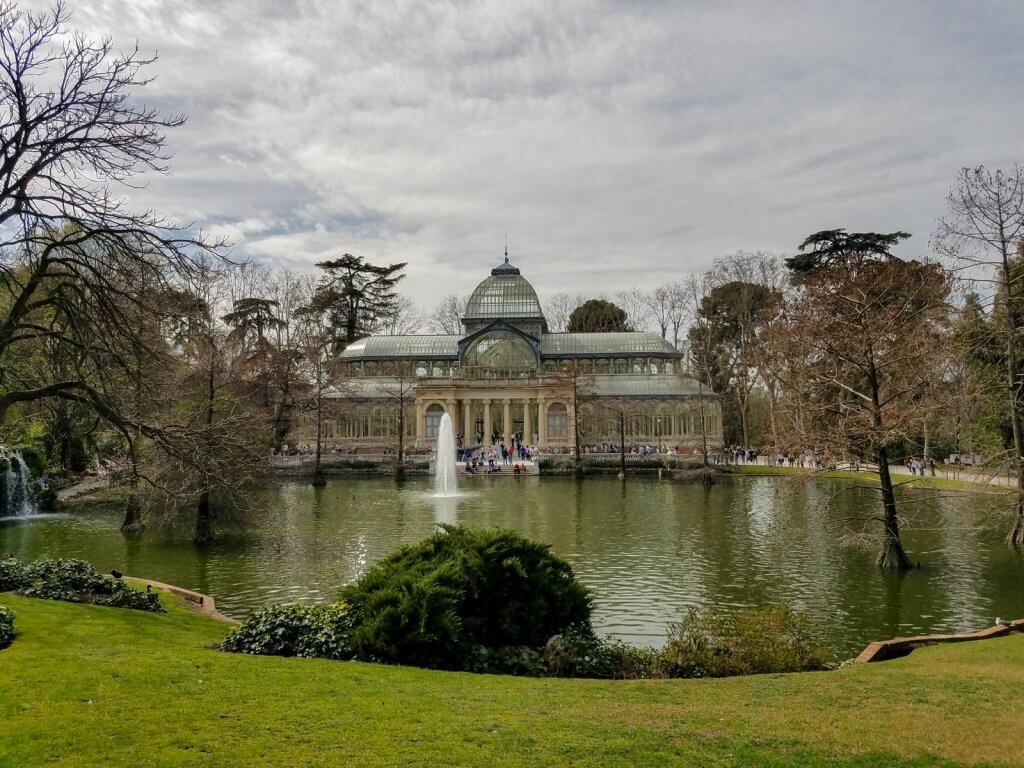 MADRID UNIQUE SHOPPING

Madrid hosts several weekend flea markets, like the well-known El Rastro market on Sunday, but once a month the Mercado de Motores pops up in an old train museum. You'll find unique vintage treasures, handmade art and jewelry, live music, and an outdoor food court – all while you meander through historic old trains on display. Outside, you'll find a fun selection of food trucks and tasty bites. Check the upcoming dates on the Facebook page. It's a great way to spend a day like a local Madrileño.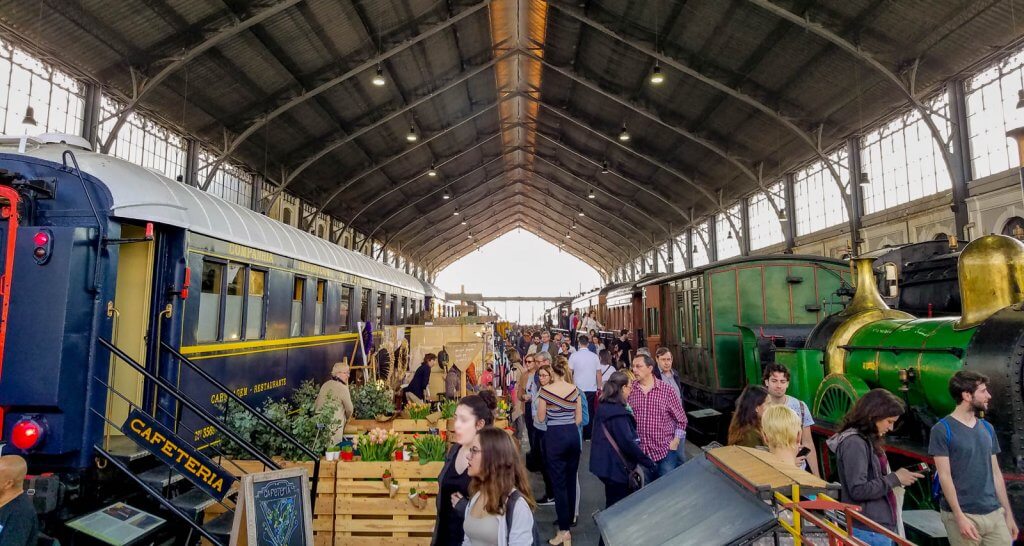 The relaxed pace of the Spanish lifestyle might take some getting used to. Even in the capital of Spain, Madrid, where life is more fast-paced that smaller towns, it's still a much more laid-back, relaxed atmosphere than what many of us are accustomed. Yes, many businesses close for siesta, and you'll need to slow down like everyone else. The city wakes up late, there are long breaks during the day, and the nightlife continues much later into the evening. This is a lifestyle we loved and suited us well. For a week we wandered through Madrid finding tapas and wine and discovering that we felt so at home and welcome that several times while sipping wine in a casual bar we wondered if we could find an apartment and never leave. We'll certainly return to Spain, but it'll be difficult to venture any further than the magnificent city of Madrid.
Ready for tapas and wine in Madrid? Reach out and let's get started!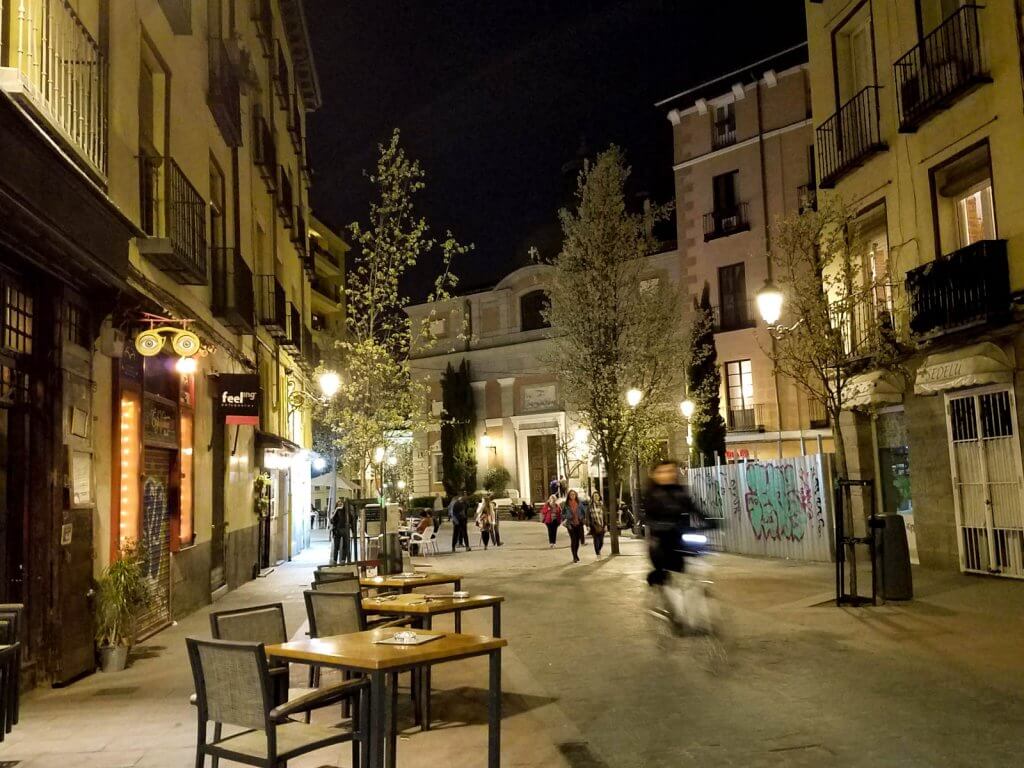 Michelle's Recommended Hotels
✵
Discover the Fine Art of Relaxing in Madrid
Sign up for the free email newsletter to get travel tips and special deals .

« The Best Beer Garden Snacks | European Plug Adapters »