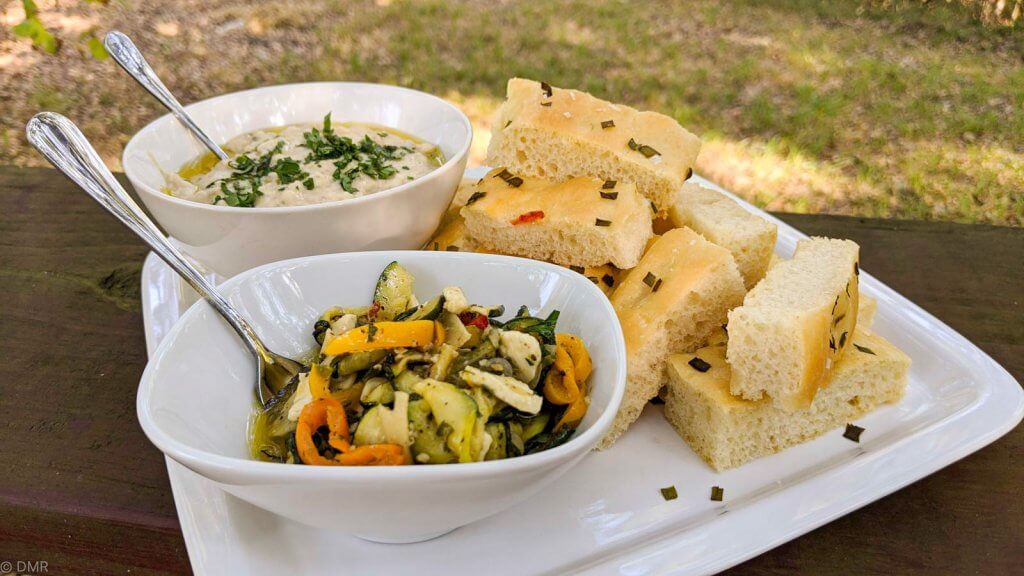 When we can't travel, we eat!
Summer means zucchini — loads of it. There are only so many times we can eat grilled zucchini before we're bored with it, so I started experimenting with different ways to use up zucchini. This Italian marinated zucchini is perfect for a side dish – light and full of flavor – and has become our favorite zucchini recipe. We like using it as an appetizer with fresh focaccia, and it's ideal for a picnic.
The zucchini needs time to marinate – 4 hours minimum! – and will keep in the fridge for several days. You can play around with the amounts of ingredients depending on how much garlic you like, or how much tart vinegar you prefer, or what fresh herbs you have on hand. Think of this recipe as a guideline, but you should put your own twist on it.

Ingredients:
Zucchini:
3 medium zucchini thinly sliced
1 teaspoon kosher salt
Marinade:
1 small onion thinly sliced
2 garlic cloves thinly sliced
6 mini sweet peppers cleaned of seeds, thinly sliced into rings (or 1 red, yellow, or orange bell pepper thinly sliced into strips. Green bell pepper will not work with this.)
1 tablespoon fresh basil
1 tablespoon fresh parsley
1 tablespoon mix of other dried or fresh herbs: oregano, chives, marjoram, or use dried Italian seasoning.
Pinch of red pepper flakes
1/2 cup extra virgin olive oil (divided)
1/2 cup white wine vinegar (divided)
Salt and Pepper to taste
Instructions:
Cut the ends off of the zucchini and very thinly slice (⅛- ¼ inch) zucchini with a mandoline or by hand.
Place zucchini in a colander over a bowl and mix in 1 teaspoon salt. Carefully toss to coat zucchini in salt and leave for 30 minutes to drain.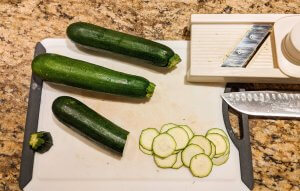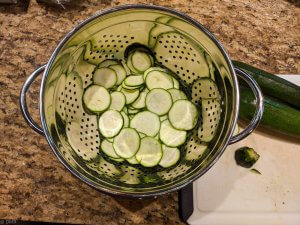 Heat oven to 300.
In a medium skillet, on medium-low heat, add ¼ cup olive oil and ¼ cup white wine vinegar. Add sliced garlic and onions. Cook 7 – 10 minutes until soft and translucent. Keep the heat low. You don't want to brown them.
Add peppers and herbs. Cook 7 – 10 minutes.
Add pinch red pepper flake, and salt and pepper to taste.
Remove from heat and set aside.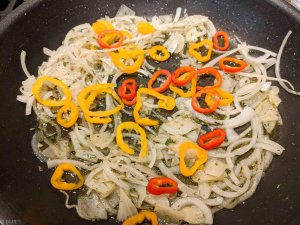 After 30 minutes, the salted zucchini should have released a lot of liquid into the bowl under the colander.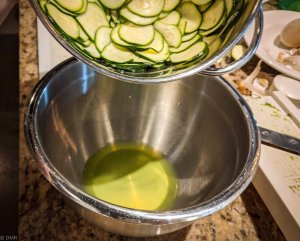 Place a kitchen towel on a baking tray and carefully remove the zucchini from the colander and spread onto the towel. Dry zucchini with paper towels or another kitchen towel and squeeze gently because it's very thin and tender.
Line a baking tray with parchment paper and spread out zucchini slices. Place the tray in a 300-degree oven for 7 – 10 minutes to help dry the zucchini further.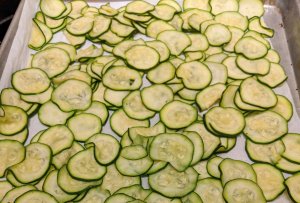 Remove zucchini from oven and place into a bowl, add the marinade, and toss to coat. Add additional olive oil and vinegar. You can add small amounts of vinegar until you get it to where you like it.
Cover and refrigerate, occasionally tossing to mix.
This needs at least 4 hours to marinate before service. Overnight would be better.
Before serving, remove from the refrigerator and let it warm to room temperature.
Italian Marinated Zucchini is a great addition to antipasti platters!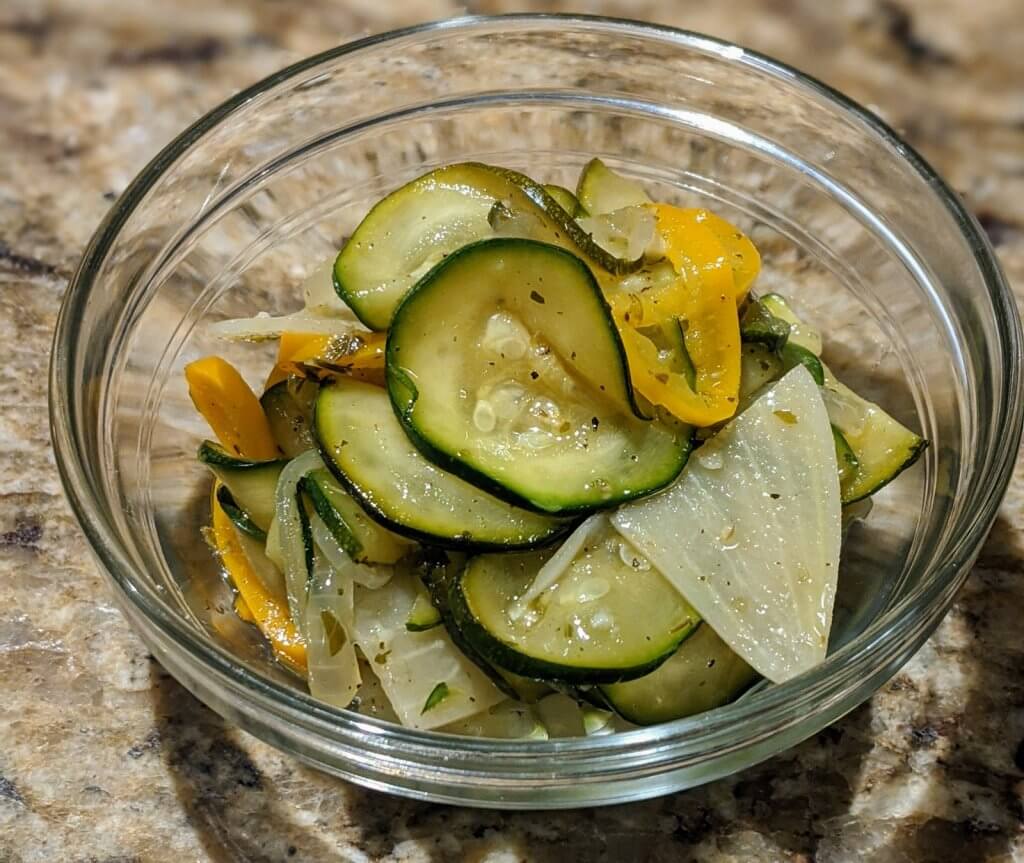 Enjoy!
Did you make this recipe? Let me know what you think in the comments.
« Can Americans Travel to Europe? | Food to Eat in Bavaria, Germany »