The Best 40th Birthday Trip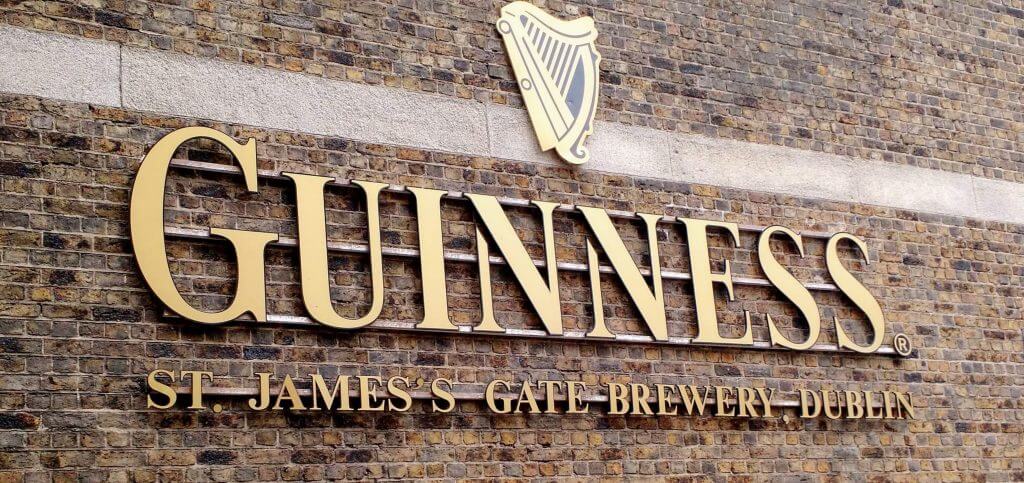 If we could add up all of the Guinness James has drunk in his lifetime… actually, we probably don't want that on record. Let's just say, James enjoys Guinness. One day, I was checking our frequent flyer miles with American Airlines and figured since I was on the site I'd see what it would take to get us to Ireland for James' 40th birthday. Seeing that we had plenty of miles and would only need to pay $45 each, it was a no-brainer. We're off to Dublin!
We had to make it a short trip, and we had one goal – drink Guinness until we were tired of Guinness (turns out that isn't possible for James), so this post won't be very long because writing about every Guinness we drank wouldn't be very interesting (and I can't remember them all anyway).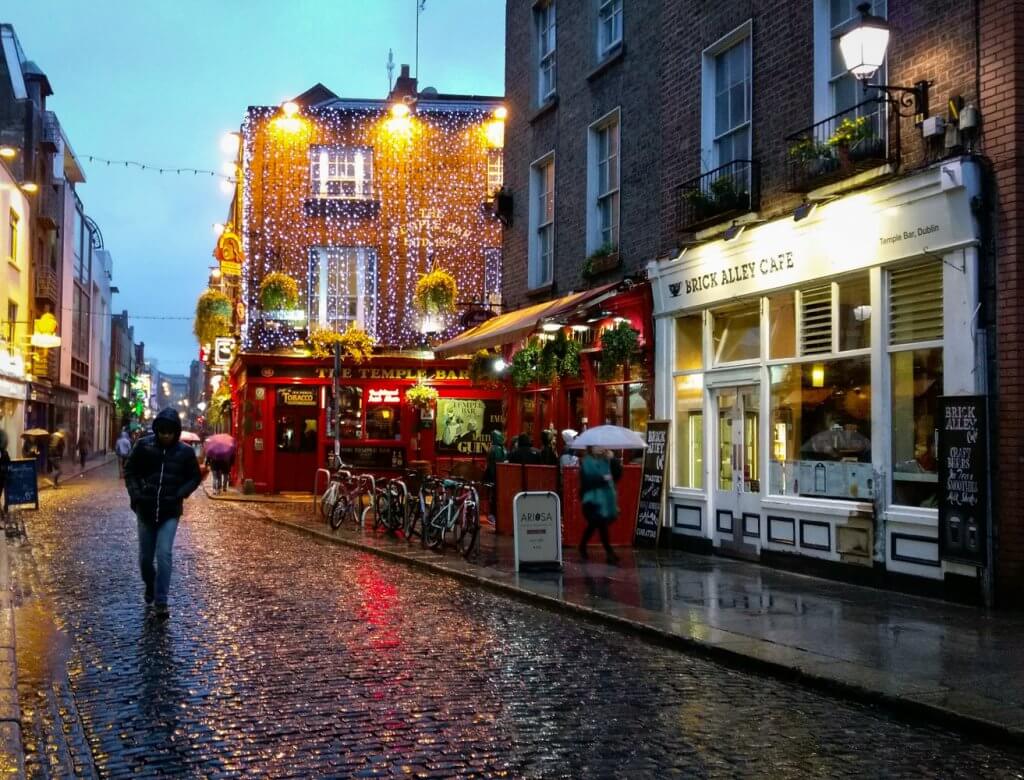 We opted to stay just outside of the Temple Bar area. Yes, there is an actual The Temple Bar pub, but it's also the name of the most popular district of Dublin, filled with restaurants, pubs, and live music (a bit like Austin's entertainment district). The Temple Bar pub, established in 1840, is one of the most well-known in the area. The pub opens pretty early in the day (and stays open until the wee hours) so we stopped in for an Irish coffee one morning (breakfast of champions!), and it was the best I've ever had. There are plenty of reasonably priced hotels nearby, and since we only had Guinness on the itinerary, it was easy enough to find what we were looking for throughout the city using this location as a base. We arrived, checked in to our hotel, dropped our bags, and set out to find the nearest pub. It was right next door, so there wasn't much of a search. James found heaven in a glass with his first pint of Guinness, and I knew that we made the right choice to celebrate his birthday in Dublin.
Remember, this trip was all about Guinness, so we were on a week-long pub crawl. We made a point to have a pint at many of the historic pubs and there are a few that we think shouldn't be skipped.
1.
The Brazen Head claims to be the oldest pub in Ireland (who am I to argue?) and is worth a stop for a pint and a bite to eat. The courtyard tucked away from the main street is a lively and welcoming outdoor space to enjoy in good weather, or bad weather if that's your thing. Most folks might visit The Brazen Head for its character and history, but the menu is also worth trying.
2.
With dark wood paneling and stained glass, The Stags Head is an elegantly preserved Victorian pub.
3.
And, my favorite, decked out with shiny brass, chandeliers, and a red tin ceiling is The Long Hall. The pub has a few traditional snugs, but we enjoyed sitting near the large front window and watching the street life. For those that do tire of Guinness (gasp!), The Long Hall serves up an excellent Pilsner Urquell (my favorite!).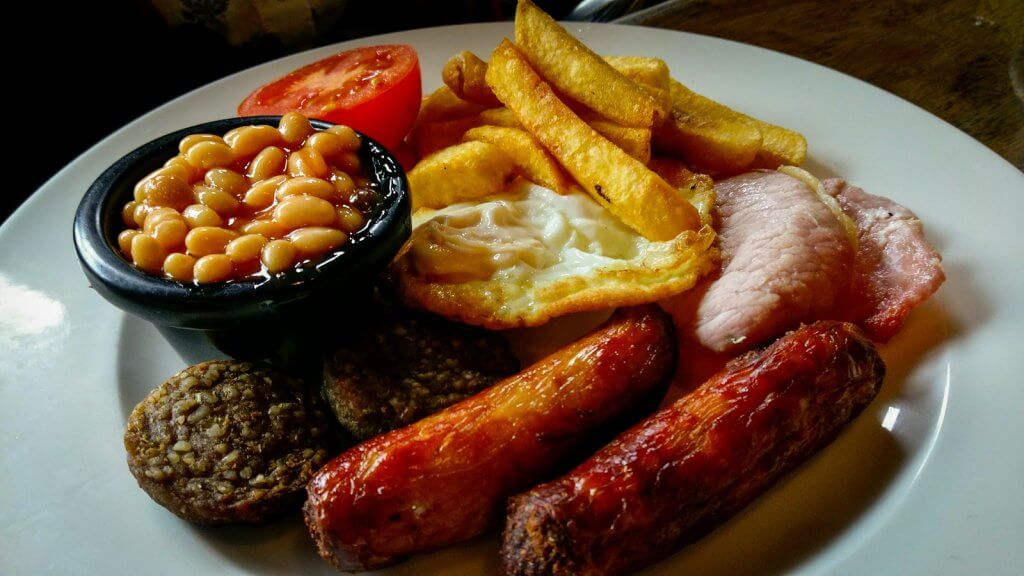 It's been said that you can survive on nothing more than Guinness, but I need real food, and while there are certainly good fish and chip shops, Dublin has a growing gourmet and gastropub foodie scene. We were on our way to The Winding Stair for dinner, but they were booked up, so we went to their sister restaurant right next door and had the pleasure of dining at The Woollen Mills where the pork belly mac and cheese was the winner. Both restaurants are right at the Ha'penny Bridge on the north side of the River Liffey.
One evening after leaving The Long Hall, we started chatting with some local folks about where we should have dinner, and they recommended Boulevard Cafe. It was excellent (thank you friendly Dubliners on the sidewalk!), we had a melt-in-your-mouth lamb shank that we've tried and failed to recreate at home. Unfortunately, Boulevard Cafe is no longer in operation.
For dinner or just drinks in a gorgeous setting, The Bank on College Green is a beautiful example of ornate Victorian architecture that is stunning. Of course, even though Irish cuisine is more than Guinness stew, we ate our share of that traditional dish as well since most pubs serve up their own version and I wanted to be able to tell folks where to find the best. I never found a 'best'; they were all delicious.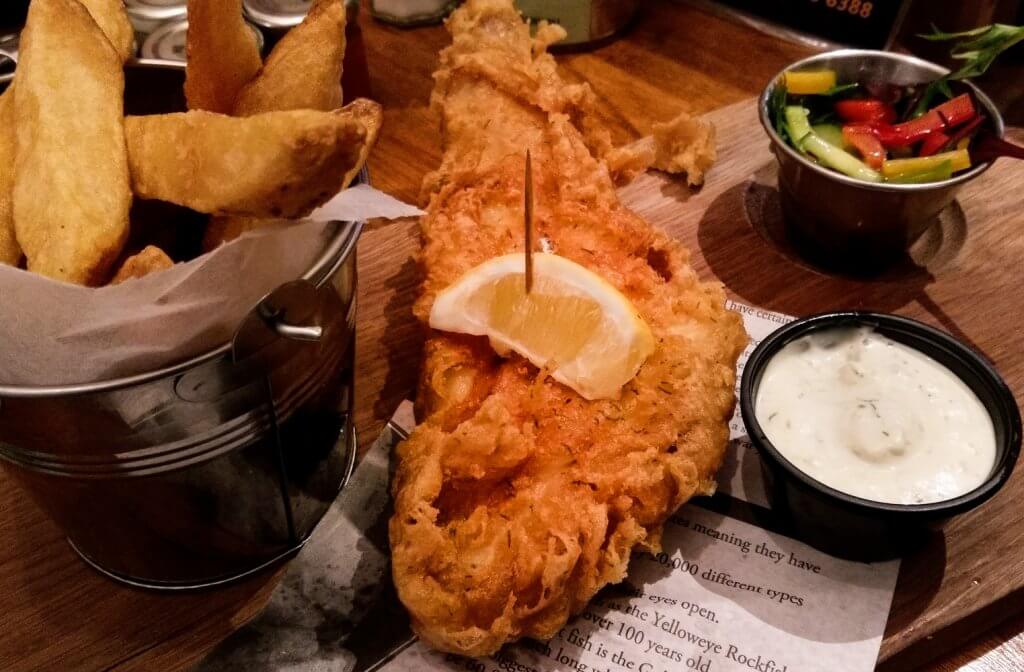 If you're looking for historical places to visit, you have Dublin Castle, The Book of Kells at Trinity College, and, of course, the reason we're in Dublin, the Guinness Storehouse at St. James's Gate Brewery where you taste Guinness from the source.
The tour at the Storehouse walks you through the history of Guinness and the brewing process (is it beer time yet?), there's a restaurant (beer now?), you can learn to pour the perfect pint at the Guinness Academy (ooh, fun!), and on the top floor, with a magnificent 360-degree view of Dublin, there's the Gravity Bar where you can have a pint of Guinness complements of the brewery (free beer?!).
The Storehouse is worth the visit for any Guinness lover, but I decided to surprise James with the Connisour Experience. This experience is a private bar limited to only a handful of people where you have your personal Guinness expert walk you through a tasting of several different Guinness beers and hear fun Irish storytelling about the history of the beer and the company. The highlight is getting your turn behind the bar to pour your perfect pint. Happy birthday, James!


From Dublin, we took an easy 2 ½ hour train to Galway with Irish Rail. The weather was cold, windy, rainy, and just gross, so we spent our days hiding out next to cozy fires in the numerous historic pubs that line the streets. It's a vacation, so day drinking is acceptable and encouraged.
From Galway, you can take a day trip to the Cliffs of Moher, but because of the poor weather, it wasn't in the cards for us on this visit. Instead, we stuck around Galway's central area where we met folks, had good conversations, shared rounds of Guinness, tasted whiskeys, walked around in circles, and enjoyed the Irish hospitality.
A couple of our favorite pubs in Galway:
Tigh Neachtain with the small snugs and authentic Irish pub feeling. Find a spot, cozy up, and spend all day.
And The Kings Head with its medieval fireplace dating back to 1612.
You really can't go wrong with the pub you chose for your pint (who am I kidding – pintS) of Guinness in Galway. Even with the terrible weather, we had a great time, and I highly recommend you build some time into your Ireland itinerary for a stop in Galway.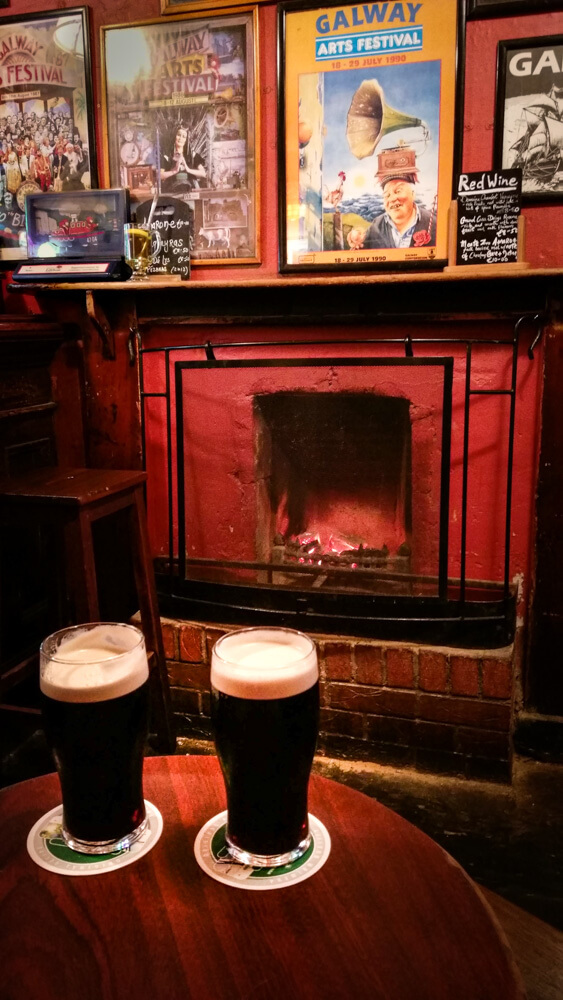 Our week ended back in Dublin for a night before our flight home. We weren't quite ready for the trip to end and decided to make the most of our last night. At a nearby pub, we started a whiskey tasting, making our way through their bar supply, because that sounds like a great idea the night before a long flight, right? This night I also discovered milk gin, which is gin distilled from sweet whey alcohol from the cheese-making process. I was drinking Bertha's Revenge Irish Milk Gin, and I liked it. A lot. In the morning, I learned what the 'revenge' meant, and we said goodbye to Ireland, taking a nasty hangover as a carry-on.
Our short Ireland trip was filled with friendly people, good food, and great beer (James would say 'the best' beer); it was the perfect way to celebrate James' 40th birthday. We might focus on more than just Guinness the next time we visit Ireland, but I can't guarantee that.